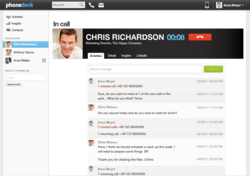 Berlin, Germany (PRWEB) December 01, 2011
Phonedeck, a web-based, personal computer dashboard for managing mobile phone activity and personal data, has today announced its 'invitation only' phase before public launch next year. As well as making calls, offering options for the management of contacts and SMS activity, Phonedeck brings the principles of social networking to your mobile, allowing users to manage all areas of daily phone communication from their computer screen.
Phonedeck imports existing user mobile contacts to a cloud database, as well as taking contacts from social networks such as Facebook and LinkedIn, if desired. If the latter option is exercised, Phonedeck will 'auto-curate' the user's database, automatically updating phonebook entries by pulling data from those social networks as contacts update their profile information in real-time, negating the possibility of keeping redundant contact details on file. After downloading the associated smartphone app and registering online, users can initiate and answer calls on their mobile via the web-based dashboard without having to unlock and then search for a contact on their device. Phonedeck also allows the sending or receiving of SMS direct from the platform as well as automatic or manual management of new and existing contacts, simultaneously offering a comprehensive back up service should handsets be misplaced or stolen.
In addition to these features, Phonedeck displays an info panel on incoming callers, showing their previous calls, SMS history, company and LinkedIn activity to complement their name and picture. The platform also provides detailed user data that can be arranged by years, months and weeks, offering an in-depth insight into overall mobile usage. Entire interaction histories by contact are logged, making it quick and easy to scroll through earlier message and call records to recover vital information. Misplaced handsets are also easily recovered with a remotely activated chime that will sound even with the phone placed on a silent setting.
"At Phonedeck, we're motivated by the idea of combining the strengths of our personal devices in one environment to get the most value from them," commented Dr. Frank Fitzek, Phonedeck founder and CEO. "Personal computers still have some advantages over phones - such as larger screens and better keyboards - and we provide an innovative and seamless solution to active mobile users to whom phone and computer use have become inextricably linked."
Phonedeck's live data is protected to international security standards and by tightly controlled procedures to ensure users' data is safely stored. All connections made by the platform and associated apps make use of SSL encryption on par with that of online banking transactions. Daily backups are also made of all stored data, further cementing the company's commitment to top level security.
During this initial invitational period Phonedeck will be available to Android users, with plans to launch on iOS and Blackberry devices early in the new year.
Media Contacts
Luke Geoghegan:
luke(at)33seconds(dot)co
About Phonedeck
Phonedeck is a web-based, personal computer dashboard for managing mobile phone activity and personal data, combining the best features of mobile phones and personal computer setups. After downloading the accompanying app, users' phones are connected to the web platform via a cloud database from where calls and SMS texts can be made and received, user data on interaction and activity levels can be accessed, contacts can be manually or automatically updated through social networks and are stored in case of phone loss or theft.
Phonedeck is headquartered in Berlin, Germany, and was founded in 2010 by CEO Dr. Frank Fitzek, COO Gerrit Schulte, Head of Business Development Jens-Philipp Klein and chairman Christophe Maire, who is also an investor in the company.
###