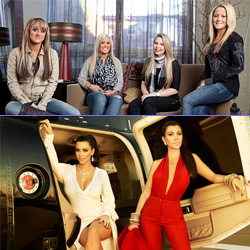 Washington D.C. (PRWEB) December 02, 2011
RealityAired.com will provide visitors with all the latest, up-to-date information this December as it covers two of the biggest hits in America! With fresh, humorous recaps and up to the minute information RealityAired.com will keep visitors entertained!
Everyone knows the controversial Kardashians but in the newest installment of the E! Networks franchise, Kourtney & Kim Take New York, viewers will be getting an inside look at the unraveling of Kim Kardashian and Kris Humphries' now infamous 72-day marriage. The series gives viewers an inside peek at Kim adjusting to married life as well as sister Kourtney adjusting her unconventional relationship with "baby-daddy" Scott Disick. The show is set in New York City where Kim and Kourtney will be overseeing the SoHo location of their DASH boutique. The group moves into a lavish two-story suite at the Gansevoort Park hotel, where we find that the living arrangements are beyond the confines of "normal."
RealityAired.com will also be covering the second season of MTV's smash-hit Teen Mom 2. The new season will give viewers an update on the current drama in each cast-member's life. Popular cast-members like Jenelle Evans, whom audiences have a "love-hate" relationship with, will pick up where they left off in their life stories. This season will have plenty more drama such as Jenelle trying to deal with being a young mom on top of her many run-ins with the law. The new season will also focus heavily on Leah Messer's unraveling marriage to the father of her twins and who had a highly publicized, made-for-TV wedding last season.
Also new to RealityAired.com is a convenient mobile-web format which gives visitors the latest dish on their favorite shows, stars and gossip - literally at at their fingertips, all while on the go!
About RealityAired.com
RealityAired.com has up to the minute information (24/7), news, photos, videos and recaps on some of the most popular reality TV shows on air today. From the Jersey Shore to The Real Housewives, RealityAired.com covers everything that is need- to- know for reality TV viewers and addicts alike.
About Valdez Media
Valdez Media, Inc. was founded in early 2011. Valdez Media aims to create a network of entertainment avenues for a variety of audiences that cover television, film, sports, music and fashion. Valdez Media, Inc. is based out of the Washington D.C. metropolitan area.
For more information please contact PublicRelations(at)valdezmediainc(dot)com
###