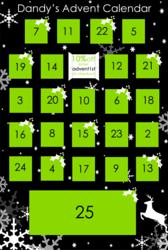 people simply don't want to get caught out again this winter and so they are buying in advance to take advantage of our special offers and promotions and to ensure that they have planned well enough ahead to avoid slipping up over the festive season
(PRWEB UK) 1 December 2011
Dandy's RockSalt, award winning suppliers of rock salt online, run plenty of promotions and offers all year round, with voucher codes being regularly sent out to newsletter subscribers, Facebook users and those who follow the company @DandysRocksalt and @DandysDirect on Twitter. With Christmas pending, the business decided to kick it up a notch with a new, one day only special offer being revealed each day via an advent calendar featured on their websites.
The first offer is a 10% voucher code which can be used on top of any live reductions already in place on the site. For example; the alternative to rock salt, UltraGrip® Salt, which the company invented three years ago, is already currently running at half price for a one tonne bulk bag; with an additional 10% off available on the 1st December, savvy internet shoppers can grab a bulk bag for just £80.95 if they purchase today.
The company intend to reveal a new offer each day via the advent calendar with promotions coming in the form of voucher codes, free gifts, half price offers and other deals on rock salt and de-icing products, landscaping goods and gardening products featured on the company's award winning websites, Dandys Topsoil .co.uk, DandysRockSalt .co.uk and DandysGardenCentre .co.uk.
Dandy's were the only company able to continue to supply de-icing salt to homeowners, businesses and the emergency services for the past three harsh winters, in spite of the rock salt mines and quarries running out of the road and path grit traditionally used by Councils to keep roads clear of snow and ice.
With Scotland already having had snow in November of this year and with more looking set to sweep across the UK in the next few weeks the company is urging people to stock up early before it's too late.
UK Sales Manager for Dandy's, Simon Hughes, commented; "We've already had over three thousand tonnes of rock salt come in to our yard at Deeside, Flintshire, to be packed and shipped out to two of our major buyers so that they can be sure they will not run out of salt this winter. As Christmas nears we have seen a spike in sales despite the current weather being slightly warmer than usual; people simply don't want to get caught out again this winter and they are buying in advance to take advantage of our seasonal promotions and to ensure that they have planned well enough ahead to avoid slipping up over the festive season."
About Dandy's:
Dandy's have been a family run business since 1826 and continue to be so despite rapid growth propelling them from a small to medium sized business over the past four years. The business relocated to Deeside Industrial Park in late 2010 and plans to expand next year with North Wales first truck stop. Dandy's are award winning, market leading suppliers of topsoil, gardening and landscaping supplies as well as home fuels and rock salt and de-icing supplies.
###