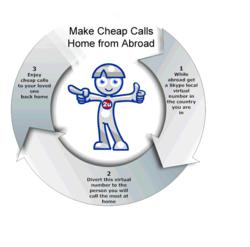 We have put together a few money-saving suggestions so everyone can enjoy cheap calls to and from home wherever they are in the world.
(PRWEB UK) 3 December 2011
Staying in touch with loved ones or work colleagues whilst traveling the globe is fast, easy and convenient when using a mobile phone, but it can cost a fortune and many mobile phone users are unaware of the best ways to get cheap calls abroad, say industry experts 2u.co.uk
Returning home after an incredible time roaming the globe and being greeted by a hefty phone bill for all those calls made to the UK is enough to dampen the great memory of any holiday or business trip. Even though call costs have now been capped in the EU, both making and receiving calls when roaming overseas incurs charges that can rack up to a sizable amount and some mobile phone users, especially those traveling outside the EU (where making calls can cost up to £2.50 a minute) unwittingly pick up huge bills in call costs along with their travel memorabilia.
Call costs when 'mobile roaming' abroad are increased hugely because the call is connected to an overseas network and routed through that provider rather than the user's home provider, but thankfully there are ways around this.
"It's easy to get caught out and it can be quite a shock when the bill arrives," says Grant Burrows from iPhone insurance comparison website 2u.co.uk. "In some parts of the world it can cost £2 a minute just to receive a call, so investigating cheap options before traveling can save a lot of money and heartache. The simplest solution to keeping costs down is to leave handsets at home but for most people it's not a viable option. We have put together a few money-saving suggestions so everyone can enjoy cheap calls to and from home wherever they are in the world."
For mobile phone users who are likely to make a substantial amount of calls, the processes illustrated are the cheapest and most effective ways to make and receive cheap calls.
The process for incoming calls is more complex but well worth while for keeping up with loved ones whilst on holiday and even more so when using mobiles abroad for business purposes.
The following method allows the user to call cheaply without having to find a free wi-fi area.
Local SIM cards can be purchased very cheaply for a specific country whilst in that country or before departure. It's more expensive to buy one in advance but there is often a decent amount of credit included. Local SIMs give the user a temporary number and calls charged at local rates whilst in that country.
Other cheap alternatives for those using mobiles regularly abroad are:
Global SIMs, which work in most countries, can be very effective in reducing call costs overseas and only have to be purchased once. They allow the user to have the same phone number whenever abroad, making them especially useful for those who travel regularly to different countries.
Internet-to-Phone calling systems such as 'Skype' can also make it possible to call for free whilst abroad. Simply download your chosen system before departing then call from a free wi-fi area abroad to a recipient at home (who must have the same internet-to-phone calling system) and the call will be cost-free.
For mobile phone users who will only make a few calls from abroad, the easiest way is to check for cheap packages from their network provider before departing, advise 2u.co.uk . All the major providers offer network bundles to help cut costs of calls outside and within the EU. Some packages are available to all customers whilst others are contract only but it's worth checking for an easy solution as long as the package is cancelled upon return.
Aside from calls, text messaging is another money-saving solution worth considering. It may be more limiting than calling but unlike calls it's usually free to receive texts whilst abroad. The cost to reply is generally around 50p per text outside the EU, which can mount up if conversing regularly but when just used to receive messages it can help to reduce costs enormously.
"Whichever route one chooses to make and receive cheap calls abroad," says Grant from 2u, "beware of hooking up to the internet whilst overseas. Don't use the internet at all if possible unless in a free wi-fi area and try to avoid downloading anything, especially films or videos – it can be extortionately costly."
For more information on how to make cheap international calls from mobile phones visit http://www.2u.co.uk
###