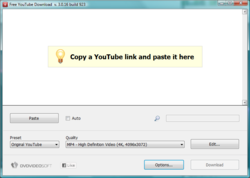 First of all we must thank our users for their feedback that we get soon after new releases and updates.
(PRWEB) December 02, 2011
DVDVideoSoft, a leading free software developer who thinks highly of every user, made its software compatible with screen readers, special software applications that attempt to identify and interpret what is being displayed on the screen. Today DVDVideoSoft releases new updates for YouTube software which includes special compatibility mode for such software.
Some months ago DVDVideoSoft redesigned the most popular programs from the list of 40+ tools included in Free Studio. All YouTube downloading software featured a new interface that appeared to be of no use for blind, visually impaired people who use screen reading software to work with computers. So, based on core principle of following users' needs, the staff arrived at the decision to make the software fully accessible for the people with visual impairments.
Thereby, a new option has been embedded in all YouTube downloading software. Now it is possible with one click to enable compatibility with screen reading software in the Options menu of the main program window.
The new functionality was tested with NVDA screen readers. Thus all users can enjoy using DVDVideoSoft software again without any limitation.
Moreover, the company has slightly simplified YouTube software interface and proved itself again as a developer of free, simple and user friendly software. Due to thoroughly elaborated interface all extensive functionality is accessible and comprehensive for advanced users as for neophytes.
DVDVideoSoft company's representative, Alex Wang comments: "First of all we must thank our users for their feedback that we get soon after new releases and updates. It helps us react quickly and eliminate all difficulties our users are confronted with. The most important thing is that now absolutely all users have the possibility to enjoy not only the new interface of our programs, but all new functions embedded in redesigned YouTube software. There are no more obstacles for it."
All-in-one package Free Studio includes all recent updates which can be downloaded from official web site http://www.dvdvideosoft.com.
###