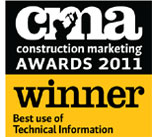 London (PRWEB UK) 2 December 2011
London Digital Agency, Cyber-Duck, has been awarded 'Best use of Technical Information' at the annual Construction Marketing Awards.
The event, organised by the Chartered Institute of Marketing (CIM), is designed to recognise the most effective campaigns in the construction sector, worked on by in-house teams and agencies alike. The event featured innovative construction firms such as Build Sensor and Apollo as well as some of the nominated agencies such as McCann Manchester.
This year's accolade was presented for a native iOS app produced for Optima Systems, a market leading office partitioning specialist. The app is designed to enable iPad users to instantly access Optima's extensive range of technical guides and manuals for their products and systems, rather than searching through numerous printed brochures. This is saving the company on printing costs reinforcing the company's sustainability policy.
2011 is the third consecutive year that London Digital Agency, Cyber-Duck has secured recognition at the event, having previously taken home awards for 'Best Use of a Website' in both 2009 and 2010, for Optima Systems and OAG (a sister company) respectively.
Judges included industry journalists, organisers and executives, as well as representatives from KPMG, CIM and Ogilvy. The prize was presented by Richard Watkins of Ogilvy, who remarked that, "The [iPad application] is forward thinking and offers content focussed upon [Optima's] target audience…The user friendly design made the content accessible whilst showcasing Optima's technical ability."
Danny Bluestone, Managing Director, and Harry Clark, Marketing Executive represented Cyber-Duck at the black tie awards evening, held at Radisson Blu in Portman Square, London. Danny was overjoyed with the award, stating, "It's brilliant to have won an award at CMA validated by the Chartered Institute of Marketing for the third year running. Alongside the many other awards we have been presented with over the years, it really demonstrates our constant innovation. I'd like to thank Optima for providing us with the opportunity to work with them on this project, as well as the hard working Cyber-Duck team behind it."
# # #