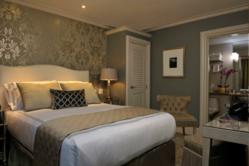 "The sleek, pleasantly quirky, 31-room hotel achieves what all boutique hotels strive for: a place where small feels interesting and intimate, not limiting or lacking." Boston Globe
Cambridge, MA (PRWEB) December 06, 2011
Since opening in May, 2011, Hotel Veritas has quickly risen to the top position for hotels in Cambridge, MA based on guest reviews on TripAdvisor.com. With comments such as, "Veritas is a little gem" and "Special Hotel, Special Staff," the guest reviews consistently praise the décor, personalized service, luxurious amenities, and location – while frequently mentioning the small size of the rooms. As one review states, "…if it's more about quality than quantity, look no further."
Benson Willis, General Manager of the 31-room Hotel Veritas, says, "Our concierges strive each day to provide an intimate level of service to our guests. 'Personalized service' isn't just a marketing tagline for us - it's what we do every day and our small size allows us to take greater care of our guests."
The guest comments on TripAdvisor.com frequently mention the complimentary Internet access, complimentary access to the Gym at Karma Yoga just across the street from the hotel, as well as the complimentary beverages (Nespresso coffees, teas, sodas, juices, and bottled water) available 24-hours a day. "I loathe $6 price tags on bottled water in hotels, so we'll never have them at Hotel Veritas," says Willis. Guests also appreciate the Anichini linens and Palais Jamais by Etro bath amenities, and our location just steps from Harvard University.
As for the small size of the guest rooms, Willis says, "As we read the early reviews on TripAdvisor and heard from our guests, we knew that we needed to do more to set the right expectation for potential guests. We created the 'Petite Queen' category for our smallest rooms and rewrote parts of the website. We appreciate when guests mention the small rooms in their online reviews, as it reiterates that issue."
Hotel Veritas is located at 1 Remington Street, at the intersection of Massachusetts Avenue in Cambridge, MA. Rates range from $195 to $595 and include Internet access, domestic phone calls, Nespresso coffee, teas, juices, sodas and bottled water, as well as access to the Gym at Karma Yoga.
###