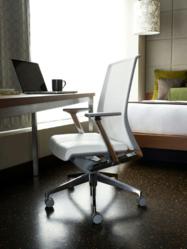 The Very Task Chair, designed by the Haworth Design Studio, is all about science-led comfort.
Beltsville, MD (PRWEB) December 01, 2011
Sit4Less.com, the leading source for the most desirable ergonomic office seating and accessories found in global Fortune 500 companies, is proud to announce special holiday savings on the world's most iconic office seating. It isn't everyday that name brands like Herman Miller, Humanscale, and Haworth go on sale, so it's with great excitement that Sit4Less.com announces these holiday savings to its customers. It's the perfect time to purchase the perfect chair at discounted prices for loved ones – or for oneself!
All Herman Miller products are currently 15% off until December 12, 2011, including the Aeron Chair. This distinctive chair combines a unique look with pioneering ergonomics. The Aeron performs like no other chair. It adapts naturally and adjusts precisely to fit people of all sizes and postures doing all kinds of activities, all day long. The imaginative design, created by Don Chadwick and Bill Stumpf, of the work chair, work stool, and side chair give superior comfort, body support, and style that are widely copied but never matched. Other Herman Miller favorites now 15% off include the Embody Chair, the Mirra Chair, and the SAYL Chair. Herman Miller's dedication to design, environmental responsibility, ergonomic comfort, make it an office favorite.
Humanscale, recognized as a leading manufacturer of office seating, features a diverse product range that ensures individuals who spend hours each day in front of the computer, do so in maximum comfort. And now maximum comfort is 15% off until December 12, 2001. The Freedom Chair by Humanscale led the first generation of intuitive ergonomics for maximum benefits to the user – with minimum manual controls. Automatically providing the right amount of support through the full range of recline motion. Following Freedom came the Liberty Chair with exclusive body fitting contours that give, flex, and mold to the user. In addition to office seating, Humanscale features an entire line of ergo office tools like the switch mouse, the 5G-keyboard system and the M2 monitor arm. Working in conjunction these ergonomic office tools bring the work to the user, minimizing the stress and strain associated with sitting at a desk all day.
Haworth believes that knowledge empowers and learning leads to change and growth of individuals and organizations. Since 1948, this had enabled Haworth to design, manufacture, and deliver products that meet the most stringent design and quality standards. With classics like the Zody Chair, Haworth created a soft mesh back chair that provided the frame flex; mesh construction, lumbar pad, and pelvic support in a sleek and user friendly design, without all the fiddly mechanisms. Most recently Haworth introduced the Very Task Chair, designed by the Haworth Design Studio, is all about science-led comfort. The Very Task Chair's multiple adjustment options, color combinations and Greenguard Certification make it a perfect fit in the home and at the office. Holiday Haworth Savings of 15% last until December 6, 2011.
Sit4Less.com seeks to be the leading source for the most desirable ergonomic seating and accessories found in global Fortune 500 companies and delivers them to the home and small office customer – For less. Name brands such as Herman Miller, Steelcase, Humanscale, and Haworth are supplemented with house and exclusively co-branded offerings manufactured for the company. Sit4Less.com sells online and through a call center.
# # #