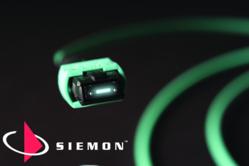 Armored cable offers 7X the crush resistance of standard fiber to protect high-performance channels, eliminating the need for fiber ducting and cutting material and labor costs by up to 50%.
Watertown, CT, USA (PRWEB) December 01, 2011
Siemon announces the addition of multiple armored cable options to its comprehensive line of high-performance MTP-based plug and play fiber cable assemblies. Available in 40Gb/s and 100Gb/s-capable OM3 and OM4 multimode fiber cable constructions as well as standard 62.5/125 and 50/125 multimode and singlemode, these plug and play assemblies feature flexible, spiral wrapped aluminum interlocking armor offering over 7X the crush resistance of standard assemblies. This added durability supports rugged-environment intrabuilding backbone and horizontal installations and eliminates the need for ducting to protect non-armored fiber cable. Compared to the installation of non-armored fiber with separate innerduct or conduit, the use of armored cable can cut installation costs by up to 50% or more for both materials and labor.
Available in 12 to 144 fiber counts in increments of 12 fibers and in custom lengths, Siemon's armored plug and play fiber cable assemblies are user-configurable to precise application requirements and efficiently put high-performance, high-density fiber connections exactly where they are needed.
These new armored fiber cable assemblies join Siemon's full line of high-performance MTP plug and play fiber optic cabling solutions. Constructed of high-quality fiber optic cable and components for future-proof support of critical links up to 40Gb/s and 100 Gb/s application speeds, the Siemon plug and play system's factory terminated and tested connections guarantee maximum channel throughput without the performance variability of field terminations.
In both armored and non-armored varieties, Siemon OM3 and OM4 multimode MTP assemblies have passed independent third-party testing by Experior Labs, confirming 40Gb/s and 100Gb/s-readiness and performance margins in accordance with the latest IEC 1280-4-1 Edition 2 and TIA/EIA-455-171A standard. These latest IEC and TIA/EIA testing procedures use new Encircled Flux methods, which limit the negative impact on the accuracy of multimode fiber Insertion Loss and Return Loss test results. Encircled flux compliance reduces test variability by up to 75% versus the previous test methods, helping eliminate false pass results that can degrade overall network performance. The more accurate encircled flux test methods indicated industry-leading performance margins of up to 60% for all Siemon product tested.
To ensure these high performance levels are maintained in every plug and play assembly , Siemon performs 100% automated end-face inspection of all fiber interfaces to IEC 61300-3-30 Ed 1.0 to limit contaminants and surface defects that significantly degrade system performance. Siemon also tests all of its plug and play assemblies for Insertion Loss and Return Loss in both directions for both 850n and 1300nm wavelengths and ships individual test results with every assembly.
The full Siemon plug and play fiber optic system includes low-profile MTP to LC or SC modules, MTP pass-through adapter plates and an extensive offering of pre-terminated MTP to MTP, and MTP to LC cable assemblies.
For more information on Siemon's new armored MTP plug and play fiber optic cable assemblies, as well as other Siemon network cabling innovations visit:
Follow Siemon on Twitter: http://twitter.com/siemoncabling/
Join Siemon on Facebook: http://www.siemon.com/go/facebook
About Siemon:
Established in 1903, Siemon is an industry leader specializing in the manufacture and innovation of high quality, high-performance network cabling solutions. Headquartered in Connecticut, USA, with global offices, manufacturing and service partners throughout the world, Siemon offers the most comprehensive suite of copper (unshielded and shielded twisted-pair) category 5e, category 6 (Class E), category 6A (Class EA) and category 7/7A (Class F/FA), and multimode and singlemode optical fiber cabling systems available. With over 400 patents specific to structured cabling, from patch cords to patch panels, Siemon Labs invests heavily in R&D and development of industry standards, underlining the company's long-term commitment to its customers and the industry.
# # #