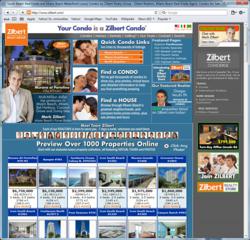 Miami Beach's luxury market is soaring
Miami Beach, FL (PRWEB) December 06, 2011
Miami-based Zilbert Realty Group, a leading real estate brokerage company, announced today that Miami Beach luxury sales volume has jumped 60.8% in the 12 months ending November 30, 2011.
Zilbert studies market sales trends as part of its ongoing market research, and noted a dramatic increase in luxury property sales in 2011. It examined condo and single family home sales in zip code 33139, where the sales price was over $500,000. Total sales volume in Miami Beach rose from $436,186,981 to $701,533,956, a 60.8% increase. The number of sales transactions, had a similar increase. Total sales transactions rose from 278 to 422, a 51.8% jump. The average selling price of condos and homes rose from $1,569,017 to $1,662,402, an increase of 6%.
Mark Zilbert, Managing Broker of Zilbert Realty Group states that, "The luxury market in Miami Beach has seen unprecedented demand, and the trend appears to be continuing as we enter 2012." Mr. Zilbert states that his firm's Miami Beach luxury sales this year have been the highest in the company's history. "There is a finite number of extraordinary residences in Miami Beach, and buyers appear to be competing for a shrinking condo and home inventory".
Zilbert points out some of the more-popular condos being sold in Miami Beach are found at The Continuum, ICON South Beach, Murano Grande South Beach, The Apogee, The Setai, the W South Beach Residences and the Murano at Portofino.
ABOUT ZILBERT REALTY GROUP
Zilbert Realty Group is a leading Miami real estate brokerage firm specializing in upscale and luxury properties in Miami Beach, Miami and surrounding beach cities. Based in Miami Beach, Zilbert sells over $170M of real estate annually, catering to both local and international buyers and sellers in seven languages. The firm is one of Miami's only real estate brokerages providing multiple customer channels in its real estate practice, including a high-traffic, award-winning website (http://www.Zilbert.com), an innovative, retail-based concept, the Zilbert Realty Store, and its traditional face-to-face sales practice.
###