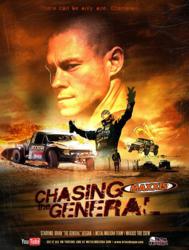 (PRWEB) December 01, 2011
For those of you who've never been to a short course off-road race, or those of you who have, it's a dirty, muddy, dust-filled little piece of pure adrenaline heaven. It's where rubber meets dirt and the air vibrates with the roar of rpm's, excitement and thrills. Take that pedal stomping recipe, throw motor-sports icon Brian Deegan into the mix and you have "Chasing The General", the newly-produced Maxxis Tires viral video series from Costa Mesa-based Blue C. Deegan nick names "The General" as the leader of the highly successful apparel brand, Metal Mulisha and has continually astonished crowds worldwide with his FMX shows and death defying tricks.
Tbe Orange County strategic marketing communications firm has recently just launched the initial videos in a series for their client Maxxis Tires. Maxxis, who sponsors such off-road drivers as Johnny and CJ Greaves, Steve Barlow, Rob "Fig" Naughton, Adrian "The Wildman" Chenni and of course Brian Deegan, looked to Blue C to develop something unique that would both position their off-road tires, but more importantly, capture the essence of the racing environment.
"Maxxis wanted an execution that captured the core of what makes the sport so exciting for fans, not necessarily to push tires." says Jeff Bentley, Creative Director and Co-Principal of Blue C. "Following Deegan at the 2011Lucas Oil Offroad Racing Series (LOORS) during Deegan's "rookie" year in the highly competitive Pro2 class, the "Chasing the General" series captures Deegan through the door-rubbing, the sweat and the dust that truly captures why he loves to do what he does. Historically, any sort of vehicle racing captures racing footage but on this series we have gone one step further to get into the highly competitive heart and head of Brain Deegan and hear his passion. The fact that he's riding Maxxis tires and has progressed to the point's leadership in the class just adds to the validity of our client's brand."
Blue C is no stranger to the motor sports world, serving other clients such as Monster Energy, Toyota and SCORE International. The agency focuses on connecting enthusiast consumers with core brands by understanding the environment in which the two interact. The new 'Chasing The General" series certainly does that very thing…taking us all for a wild ride around the track while covering Deegan's life has he seeks to capture the championship.
The Chasing The General series can be seen on both the Maxxis YouTube Channel under the YouTube search "Chasing the General", as well as the Blue C YouTube Channel.
Blue C is a strategic marketing communications firm located in Costa Mesa and can be reached directly at 714-540-5700 or on the web at bluecusa.com.
# # #