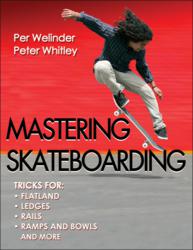 Skateboarding is like few other sports or physical activities because it merges creativity, physicality, bravery, and tenacity with the found environment.
Champaign, IL (PRWEB) December 06, 2011
Skateboarding continues to attract new enthusiasts every year, helping eliminate the negative stereotypes some people have long held about its participants. Legendary skateboarder Per Welinder thinks one reason for this growth is the way skateboarding mirrors the diversity of our society. "You can find people from all walks of life at any typical skatepark," says Welinder, author of the new "Mastering Skateboarding" (Human Kinetics, December 2011). "It is like few other sports or physical activities because it merges creativity, physicality, bravery, and tenacity with the found environment."
According to Welinder, today's skaters, especially youngsters, are less commonly characterized as delinquents and troublemakers. Instead, they are seen as ordinary people doing what they love to do. The two-time world champion who performed all the skateboard stunts for Michael J. Fox in the movie "Back to the Future," believes new skaters should follow three fundamental rules if they want to spend time among other experienced skaters without feeling out of place:
1. No whining, excuses, or bragging: Some people try to fit in with big talk about skating, which just doesn't work. "Nobody wants to hear someone going on about the tricks they used to be able to do or why they can't do them anymore," says Welinder. "Instead, do the tricks you know or try the tricks you want to learn. Ask for advice if you are having a hard time, and relax." He also stresses that the only thing worse than skateboarders talking about the tricks they can do is talking about the tricks their friends, who happen to not be there, can do.
2. Have fun no matter what your skill level: Fun is contagious, and when skateboarders are happy to be at the park, people will enjoy skating with them. Welinder believes someone's character as a skater is largely determined by how they handle their own failed attempts. "Getting bent out of shape because you didn't land a challenging trick is a great way of bumming everyone out," he says. "If you want to be a part of your local skate scene, be the type of person people want to skate with: easygoing, positive, and stoked to be there."
3. Protect yourself and those around you: Welinder warns that engaging in dangerous behavior or being inconsiderate of other skaters will anger them and maybe even lead to trouble. "Shooting your board, throwing your trash around, breaking glass, making a big stink when something isn't going your way, and bullying other people are all great ways to find yourself with nobody to skate with," he comments. "Be cool, friendly, and considerate, and treat your fellow skaters and their friends with respect. In turn, they'll respect you and want you there."
Welinder's experience has shown him that when skateboarding is kept fun for everyone involved, there's a good chance it will become a rewarding part of a person's life for many years to come. It also helps people develop some positive physical characteristics as they become more confident on a skateboard, such as increased leg strength, stamina, and balance. The largest health benefit of skating, however, is the cardiovascular workout it provides. "Most skaters don't care about the details of their health," he admits. "They just know that the more they skate, the better they feel, and that is enough."
"Mastering Skateboarding" features more than 400 full-color photos from Bryce Kanights, whose client list includes ESPN, EA Sports, FUEL TV, Nike, and Skateboarder, TWSkateboarding, and Thrasher magazines. Throughout the book, Welinder and co-author Peter Whitley take an in-depth look at all the biggest tricks while providing details on techniques and equipment for riders of every level. For more information on "Mastering Skateboarding" or other skating and extreme sports resources, visit http://www.humankinetics.com.
###