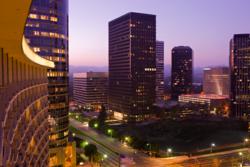 Even in the days when 'high speed' referred to sports cars and spaceships, Century Plaza was the preferred location for important events.
LOS ANGELES, CA (PRWEB) December 05, 2011
The storied Los Angeles Ballroom at Hyatt Regency Century Plaza Hotel Los Angeles is undergoing a $1.3 million renovation.
The 25,000 square foot space, one of the largest ballrooms in Los Angeles, and its upscale Century City address have made it the preferred choice for VIP galas, celebrity gatherings, social events and corporate functions for more than 45 years.
"Even in the days when 'high speed' referred to sports cars and spaceships, Century Plaza was the preferred location for important events," says the Los Angeles area hotel's General Manager Scott Allen. "President Ronald Regan celebrated his Election Day victory here, and President Bill Clinton delivered the keynote speech to the National Education Association, with Elton John and Rod Stewart later performing on stage. It was here that President Richard Nixon hosted a 'Dinner of the Century' honoring the Apollo XI astronauts, attended by 50 members of Congress, 44 state governors and ambassadors from 83 countries."
The renovated meeting areas at the Beverly Hills hotel, which will debut in January 2012, will feature all new carpet, paint and wall coverings throughout the California Level which includes the renowned 25,000 square foot Los Angeles Ballroom, the 23,000 square foot California Showroom exhibition space and a series of break out rooms totaling 7,500 square feet of event and meeting space. Furthermore, a complete overhaul of the hotels' original 1966 chandeliers will increase lighting and provide better visibility throughout the space.
The renovation is being masterminded by Design 360 Unlimited based in Santa Monica, California, who found inspiration for the new design in the works of Ernst Haeckle, a late 19th century zoology professor known for his detailed illustration of organic forms.
"We combined some designs reminiscent of floral and coral structures," said Dean Singer, President, Design 360. "But, we also included some modern shapes to add a more contemporary spin that will enliven and energize the space."
The new design will utilize orange and mango tones with blue, gray and white accents, and is being carefully designed to present a more contemporary energy, while still maintaining a consistency with the carpeting and design of Century Plaza's other function space, located on the Plaza Level.
The25,000 square foot Los Angeles Ballroom at Hyatt Regency Century Plaza, which boasts soaring 17-foot ceilings, can accommodate interactive presentations of up to 2,100 in a theater-style set up, or a seated banquet for 1,800 guests. The Los Angeles Ballroom also easily divides into three sections, ideal for classroom-style lectures or smaller receptions.
The adjoining California Lounge serves as the perfect pre-function area or individual function space, with capacity of up to 1,000 guests.
Also located on the California Level, the 23,000-square-foot California Showroom exhibition hall is designed to accommodate trade shows; the venue can accommodate up to 155 8'x10' booths, or 116 10'x10' booths. The room also converts to a reception hall, with banquet-style seating for 2,000.
A group of meeting rooms alongside the ballroom and pre-function space, the California Rooms, are designed to host any number of functions and configurations, with capacity from 18 to 300.
In total, the Beverly Hill hotel has more than 100,000 square feet of indoor and outdoor reception and ballroom space on three levels. High-speed Internet access is available in all guestrooms and meeting rooms and the property boasts more than 200 data ports.
Meeting professionals booking an event at Century Plaza are always assigned a private meetings concierge, a full time and dedicated staff member, who ensures that all last-minute details and needs are serviced efficiently from the floor.
Last-minute business needs are a cinch at the Beverly Hills hotel's Business Center (open Monday – Saturday), which provides fax services, color copying, Fed Ex pickup, and high-speed internet access computer stations. Graphics and scanning services are also available. There is also a self-service business center that is open 24 hours daily, provided as an amenity for hotel guests.
Meeting professionals interested in learning more about Hyatt Regency Century Plaza hotel can visit http://www.centuryplaza.hyatt.com or call 310-551-2670.
About Hyatt Regency Century Plaza
Located at 2025 Avenue of Stars, Hyatt Regency Century Plaza is adjacent to Beverly Hills, in the fashionable Westside of Los Angeles. All of the hotel's 726 guestrooms and suites are designed in a clean and contemporary, yet traditional style with marble baths, Hyatt's "Grand Bed," and 32" LCD HD televisions. Equinox Fitness Club + Spa offers exclusive fitness equipment, elite level Personal Coaches, and cutting edge Group Fitness classes; while the Spa delivers results for body, mind and spirit with 14 types of massage, VIP tranquility lounge, manicure/pedicure suite, and retail boutique. Additional amenities include: a one of a kind, ground level, VIP Regency Club; a Starbucks coffee bar; and X bar, an indoor-outdoor modern lounge featuring organic cocktails and shared plates. The famous Lobby Court & Patio, Les Clefs d'Or Concierge staff, an infinity edge pool and 24- hour room service round out the iconic hotel's amenities. For reservations and more information, call: 310-228-1234. For reservations at any Hyatt hotel worldwide, call 800-233-1234.
###