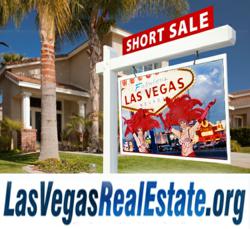 Las Vegas Short Sale and Foreclosures Account for Half of Las Vegas Real Esate Market Inventory
Las Vegas, NV (PRWEB) December 01, 2011
Las Vegas short sale specialists may be the most in demand niche among Las Vegas real estate agents. A short sale is a property in which the bank allows the homeowner to sell the home for less than what is still owed on the mortgage loan. Las Vegas has lost approximately 70% of it's property value in comparison to the all-time market high 5-years ago. According to LasVegasRealEstate.org there are currently over 5000-plus short sale homes for sale in Las Vegas.
Ashley McCormick of Realty One, Nevada's #1 Las Vegas real estate company, says short sales are often the last resort for Nevadans who try loan modification and court mediation, but advises her clients to consider it the first choice. With the banking laws currently working with most homeowners to forgive their deficiency balance at the time of sale, McCormick says "Start Over".
According to data released by the GLVAR, Las Vegas has currently reached a 5-year high for Las Vegas homes and condo sales with over half of those sales being distressed properties including foreclosures and short sales. These properties are accounting for some of the lowest prices seen in 20-years drawing world-wide attention from buyers and investors. The prices are so affordable in Vegas that 50% of the properties are selling all-cash and over 90% of Las Vegas high rises condos for sale are purchased all-cash.
"Nowhere are potential profits better than in Las Vegas….investors in Las Vegas who rent out the properties they buy now will have a 4.7% higher return than the 5.3% national average." – CNNMoney
McCormick points out that it's double-edged sword, on one side you have a seller struggling to finacially start over and on the other you have an all-cash buyer possibly getting one of the best deals his money can buy in America. According to Trulia research, Las Vegas homes for sale are currently #1 for price-to-rent ratio in America. McCormick adds that most these new buyers are making a positive cash flow renting out these homes as soon as they close escrow.
Seventy-seven percent of real estate professionals report that closing short sale transactions is "difficult" or "extremely difficult". McCormick advises sellers and buyers to be prepared for at least a 60 day escrow as there are over 7000 plus Las Vegas short sale properties currently under contract in Las Vegas. McCormick offers a free over the phone consolation on Las Vegas short sale process at 1-702-523-0916. Las Vegas homes for sale can be viewed online at http://www.LasVegasRealEstate.org
###