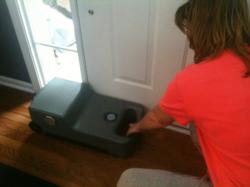 TURNS YOUR DOOR INTO A BARRICADE
Howell, MI (PRWEB) December 06, 2011
Doorbrake Company, LLC is proud to announce the release of their new security device, the Door Brake. With the release of the Door Brake, Doorbrake Company, LLC hopes to help end one of the most frightening and potentially dangerous crimes that can occur to a family member seeking comfort from a debilitating medical condition – a home invasion robbery. Although statistics are not yet available, current trends are recognizing there is great potential for a home occupied by a medical marijuana patient to be targeted for home invasions due to the criminal's desire to obtain the drug.
Even worse, federal law does not allow users of medical marijuana to own and operate firearms:
The ATF's September 21, 2011 memo, titled: 'OPEN LETTER TO ALL FEDERAL FIREARMS LICENSEES,'
The memo affirms: "Therefore, any person who uses or is addicted to marijuana, regardless of whether his or her state has passed legislation authorizing marijuana use for medicinal purposes, is an unlawful user of or addicted to a controlled substance, and is prohibited by federal law from possessing firearms or ammunition…"
Because of this prohibition on self defense for loved ones using medical marijuana, and because of the nature of the illnesses medical marijuana is prescribed for, stories like the following are bound to occur.
According to an article in the Lansing City Pulse January 26, 2011:
"At least 11 incidences of burglary or robbery involving medical marijuana were reported from Meridian Township to Eaton Rapids in the past seven months. Six of them were residential. Nine of them were in the city of Lansing. Charges were brought in two.
But it has become clear: Just because you're legally involved in the cannabis business, either in your home or a storefront, it doesn't mean you're any safer.
"On Dec. 30, three armed and masked men barged into Paula's home in rural Eaton County at about 8 p.m. Paula, who is 52 and does not want to give her last name or address, was inside with her son and granddaughter.
"Paula is a medical marijuana patient and a caregiver for two others. She had between two-and-a-half and six ounces of usable marijuana stored in jars and $1,500 in cash in her purse. The intruders stole it all.
"It's puzzling to Paula how anyone could know she had relatively small amounts of medical marijuana stored at her house. It's not like she had a neon pot leaf on her front door."
It is stories like this that lead to the invention of the Door Brake. The Door Brake is a quality American made product specially engineered to grip and hold on any type of flooring. It absorbs impact and transfers the intruders force across the door to the much stronger hinge side of the door keeping the bad guys out. The Door Brake has a piercing alarm that sounds when an intruder applies force to the door.
The Door Brake could not be any easier to use. No installation is needed yet it works as though it is permanently installed.
"You simply fill it up with water and place it in front of your door and you are ready. You and your loved ones are secure," says Sean Nalepka, a spokesman for Doorbrake Company, LLC. "Compare the Door Brake to the elaborate alarm systems out there that cost thousands of dollars and only sound an alarm letting you know that the intruder is already in your home – isn't that a little too late?"
Visit doorbrake.com to see for yourself how basic engineering can change the way people view their home security options.
For clients with a high risk for home invasions such as medical marijuana patients, the Door Brake Company recommends their tandem Door Brake configuration.
See Demo
http://www.youtube.com/watch?v=uPzizMFyUHw&feature=related
For more information, contact Door Brake at http://www.doorbrake.com
###