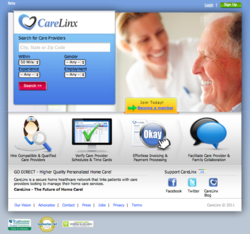 CareLinx is designed to address all of the major aspects of finding qualified and compatible care providers, while also providing solutions to efficiently manage home-based service delivery and significantly reduce costs for patients and their families.
San Francisco, CA (PRWEB) December 02, 2011
The Christmas holiday season brings family members together, often for the first time in a matter of months, or even years. Discussions center on updates, life changes and specific family member needs. Talk can often turn to arranging care for a relative, either a senior adult or person with a chronic health condition.
Sherwin Sheik, President & CEO of CareLinx Inc, understands the challenges of arranging nursing and companion care for a loved one. His oldest sister has Multiple Sclerosis (MS), and at one point she was quadriplegic and blind. His uncle suffers from Amyotrophic Lateral Sclerosis (ALS), or Lou Gehrig's disease, and has progressed to the point where he requires 24-hour, seven-day-a-week in-home nursing care.
As Sheik and his family struggled to find compatible home care providers for his sister, they relied on resources suggested by her primary physician and a social worker. His family also worked with nurses and health care providers obtained through their local home care agencies, and even Craigslist.
After observing the complexities that his aunt and cousins had to navigate to secure qualified care providers, manage 24/7 shift schedules and coordinate billing from several sources, Sheik was compelled to take action. Working with a team of system architects and developers, he launched http://www.carelinx.com as a highly interactive online platform in September 2011.
"CareLinx is about empowering patients and/or their families by providing them with a larger network of qualified and screened care providers," stated Sheik, "By matching algorithms, similar to an Internet search engine like Yelp.com or an online compatibility service such as Match.com, the probability increases that clients will foster a more successful, productive and caring relationship."
"To address the challenges of juggling multiple concurrent or sequential health care provider and caregiver schedules, our mission was centered on developing an innovative, easy-to-use online system to identify, schedule and accurately bill for home care services," Sheik said.
Committed to the imperative that an "efficient, secure, lower cost and easy-to-use web-based system needs to be firmly in place before the escalated demand by aging baby boomers hits the home healthcare market," Sheik said, "CareLinx is designed to address all of the major aspects of finding qualified and compatible care providers, while also providing solutions to efficiently manage home-based service delivery and significantly reduce costs for patients and their families."
Sheik envisions the future of the health care landscape and is prepared to "fully anticipate and respond to the challenges and opportunities arising within the health care industry, especially in light of data projections regarding our aging baby boomer population."
According to Sheik, another goal for Carelinx is to help provide employment opportunities for professional caregivers, nursing assistants and students seeking full-time opportunities or on a part-time basis to supplement their shifts. "There are a number of unemployed or underemployed people with caregiver and health care skills seeking work and we can help connect them with patients and families ready to hire them," noted Sheik.
Sheik possesses the business acumen and knowledge to ensure success, and brings his professional experience within the health care industry to the CareLinx Inc. business model. Prior to founding CareLinx Inc, he worked and invested in the health care industry for over ten years. His business interests centered on large health care corporations as a health care trader and analyst for a $900 million Equity Long/Short Hedge Fund, and in Investment Banking & Capital Markets.
ABOUT CARELINX INC
CareLinx Inc is a secure online network that links home care patients and their families with screened health care providers and professional caregivers. Client users access online caregiver profiles, arrange schedules and manage services directly through http://www.carelinx.com.
Reduced administrative costs provide patients and families with a very competitive fee structure, especially as they navigate the rising cost of health care. CareLinx clients consist of senior adults and other individuals in need of companionship, requiring assistance managing chronic conditions, or help performing activities of daily living (ADLs).
In-home service delivery is tracked with concise billing provided through CareLinx's own electronic records system. Accurate billing is generated through CareLinx's validation of hours worked through a technology based caregiver check-in/check-out reporting system. Clients and caregivers alike enjoy freedom from business management functions.
Caregivers accepted as part of the CareLinx network are typically health care workers, nurses or nursing students, rehabilitation therapists, or people who have dedicated their lives to serve others. Background checks fully screens each provider.
CareLinx caregiver profiles include location, photos, professional credentials, applicable health care licensure, experience level, performance reviews from prior employers and individual service listing such as bathing, dressing, personal hygiene, meal preparation, transportation, shopping and errands. Brief biographical information provides a personal glimpse of each caregiver.
Initial CareLinx markets include San Francisco, Los Angeles and San Diego, and select Florida and New York locations, with new areas being added daily. Interested caregivers, nurses, students, therapists and health care practitioners are encouraged to apply at http://www.carelinx.com.
For more information, please contact:
Sherwin Sheik
President & CEO
CareLinx Inc
250 King Street
San Francisco, CA 94107
(415) 595-2184
###