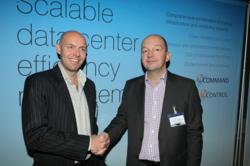 Michael Rudgyard, CTO and Founder, Concurrent Thinking said: "We believe our products will make a tangible difference to 2bm's customers."
London, UK (PRWEB UK) 6 December 2011
Concurrent Thinking, a leader in Data Centre Infrastructure Management software, has announced a new reseller partnership with 2bm, an innovator in the provision of data centre products and services.
The partnership between the two companies will enable 2bm to offer Concurrent Thinking's concurrentCOMMAND™ and concurrentCONTROL™ appliance-based DCIM products. Concurrent Technology's end-to-end approach embraces the IT layer, down to OS level, through to the physical infrastructure which supports the computer room and the facilities which provision the building.
Jason Preston, Director of 2bm said: "Our customers are increasingly looking for more sophisticated and holistic monitoring tools to assist them in the drive to reduce carbon emissions and data centre energy costs and we are always looking for innovative ways we can help them achieve their goals."
"2bm's innovative solutions enable customers to gather valuable data about power usage, humidity, temperature and other metrics in the data centre. Today's agreement with Concurrent Thinking will enable our customers to take all that captured data and process it in a useful way to help drive real data centre energy efficiency," adds Preston.
Michael Rudgyard, CTO and Founder, Concurrent Thinking concludes: "This partnership with 2bm is another exciting step forward for our business and we believe our products will make a tangible difference to 2bm's customer base in their monitoring and energy efficiency as well as being a natural fit with the Concurrent Thinking proposition."
A key differentiator of the Concurrent Thinking products is the ability to distinguish which elements of the data centre system use energy at a highly granular level, breaking down the usage into reports by business, division, or infrastructure area. This new level of insight contrasts to the current data centre focus on high-level metrics such as PUE as an energy efficiency metric.
The new partnership coincides with Concurrent Thinking's launch of two ground-breaking products at DatacenterDynamics London 2011. The concurrentCOMMAND and concurrentCONTROL products transform the ability of organisations to analyse data centre operations and presenting the data in a meaningful way to support decisions on data centre energy efficiency optimisation.
About Concurrent Thinking
Based in Warwick, UK, and a spin-out of Warwick University, Concurrent Thinking aims to bring new concepts and solutions to the converging HPC and data centre markets. The company was founded by Michael Rudgyard, a serial entrepreneur who also founded Allinea Software Ltd. (a world-wide leader in scalable tools for HPC applications). Concurrent Thinking is an investee company of Carbon Trust Investments Limited. http://www.concurrent-thinking.com
About 2bm Limited
Nottingham-based 2bm is an innovator in the provision of data centre products and services, offering UK-wide, complete installation and in-house project management from concept through to completion. 2bm's full service offering is enhanced by its dedicated team of installation engineers who ensure projects are delivered on time and on budget, with minimal disruption to day-to-day data centre operations.
2bm prides itself on the delivery of best practice, focusing on the efficient layout and distribution of IT equipment within the data centre, covering current and future business needs, IT technology trends and their implication on future data centre capacity requirements.
2bm has built its continued success on recommending only best-of-breed solutions. These innovative offerings are based upon a clear understanding of its client's requirements, which are either supplied as part of a strong relationship with strategic business partners or from its own growing portfolio of products like the 2bm iMeter - a highly advanced environmental and power monitoring solution. All these products have been selected because they offer real value for money whilst minimising the impact on the environment - through reduced power requirements and lower carbon emissions.
The majority of 2bm's implementations are in the major conurbations - London, Manchester, and Birmingham - however, from its base in Nottingham it is able to support customers across the whole of the UK maintaining 200+ implementations, which are predominantly in the financial services, education and local government sectors.
Press Contacts:
Michael Rudgyard, CTO, Concurrent Thinking
michael(dot)rudgyard(at)concurrent-thinking(dot)com
Scott Purchas, Account Director, SPA Communications
spurchas(at)spacomms(dot)co(dot)uk
###