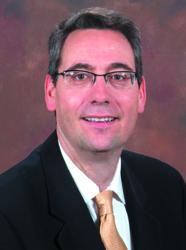 Philadelphia, PA (PRWEB) December 01, 2011
Drexel University College of Medicine and Hahnemann University Hospital are pleased to announce that D. Scott Lind, M.D., has joined both institutions as chairman of the Department of Surgery and clinical service chief, respectively.
Lind comes to Philadelphia from the Medical College of Georgia, where he has served as chief of the Section of Surgical Oncology and Jarrell Distinguished Professor in the Department of Surgery since 2005. He also served as surgical director of the adult operating room at the MCG Health System. Prior to his tenure in Georgia, Lind was a professor of surgery at the University of Florida College of Medicine and chief of surgery at the North Florida South Georgia VA Health System.
In his research, which has been continuously funded since his fellowship days, Lind has pursued clinical interests in breast cancer and melanoma, and educational topics, particularly the use of simulation in medical education. He has published more than 130 papers and book chapters and has given more than 100 regional and national presentations.
Lind received his medical degree from Eastern Virginia Medical School, and completed his residency at The University of Texas at San Antonio and a fellowship in surgical oncology at the Medical College of Virginia.
Over the years, he has been named among America's top doctors by Castle Connolly Medical Ltd. and has won numerous other honors, including many teaching awards. He is a member of the editorial boards of the Journal of Surgical Oncology, Breast Journal, and WISE M.D. Multimedia Project.
About Drexel University College of Medicine
Drexel University College of Medicine has established some of the most highly innovative and rigorous academic programs available today, incorporating the University's expertise in engineering and technology into traditional medical training. The College of Medicine is home to one of the nation's leading centers for spinal cord research; one of the foremost centers for malaria study; and a highly regarded HIV/AIDS program with extensive NIH-funded research in prevention and therapeutic interventions. Drexel University College of Medicine has been designated a Vanguard National Center of Excellence in Women's Health by the U.S. Department of Health & Human Services, and is highly respected in numerous other specialties including cardiology and pain management. Visit http://www.drexelmed.edu for more information.
About Hahnemann University Hospital
Hahnemann University Hospital is a 496-bed academic medical center at Broad and Vine Streets in Philadelphia, Pa. The hospital is a tertiary care institution that specializes in cardiac services, heart failure and transplantation, OB/GYN, orthopedics, medical, surgical and radiation oncology, bone marrow transplantation, renal dialysis and kidney/pancreas/liver transplantation. In 2009, Hahnemann earned Magnet® designation by the American Nurses Credentialing Center (ANCC) Magnet Recognition Program®. Hahnemann is recognized by the American Heart Association as a leader in coronary artery disease and heart failure treatments. U.S. News and World Reports named Hahnemann among the top 50 Best Hospitals in the nation for Cardiology and Heart Surgery in 2010 and 2011 and number 4 in the Philadelphia region, with two medical specialties ranking "high performing." The hospital performed one of the city's first kidney transplants in 1963 and one of the first bone marrow transplants in 1976. Hahnemann became Philadelphia's first Level I Regional Resource Trauma Center for adults in 1986, and since then has been served by MidAtlantic MedEvac, an aeromedical transport program for critically ill patients. Hahnemann is proud to be the first hospital in Philadelphia to join with The Wellness Community of Philadelphia to offer onsite support and education services to cancer patients and their families. Hahnemann is fully accredited by the Joint Commission on the Accreditation of Healthcare Organizations, the nation's oldest and largest hospital accreditation agency. An affiliate of Drexel University College of Medicine, Hahnemann University Hospital is part of Tenet Pennsylvania, which also includes St. Christopher's Hospital for Children. To learn more about Hahnemann, visit http://www.hahnemannhospital.com.
###