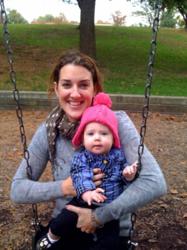 "HypnoBirthing allowed me to bring my baby into the world joyfully and peacefully, which is all I wanted. My husband was able to be fully supportive and involved, which was wonderful! We did it as a family."
Bethesda, Maryland (PRWEB) December 02, 2011
Bring your baby into the world in a peaceful and loving way. Trust your body. Learn exactly what your body will do on the day you give birth. Now get out of the way, and let your body do the work and you will experience an amazing birth. See a calm labor and visualize it; and this is how you, your baby, and your birth companion will come to understand the joy of birth. HypnoBirthing Classes prepare women for childbirth through deep relaxation techniques, visualization exercises, basic childbirth education, and overall self-hypnosis. Self-hypnosis means that you, yourself are deeply relaxing and accepting new positive beliefs about birth in order to experience just that.
Self-hypnosis is not under anybody else's control but the mother and father/birth companion. Much of the hypnosis is deconstructing old myths about labor, and negative stories and replacing them with natural, life giving thoughts and feelings. When it is time to give birth, the mother will be fully alert and conscious, yet extremely relaxed in order to give in to the process of labor.
Many people will say, "Are you out of your mind?"
And the answer is Yes. You truly are getting out of your mind in order to let your body function the way nature intended.
Through Kate Coleman's HypnoBirthing class, you will learn how to let go while still knowing exactly what occurs throughout childbirth. It is a powerful class that fully prepares you mentally and physically for birth.
"We are continuously amazed at the fact that our approach to our work is tremendously enhanced when we make things simpler, not complicated." -Steve Dykstra
###