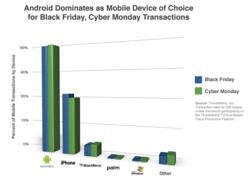 San Jose, CA (PRWEB) December 01, 2011
ThreatMetrix™, the fastest growing provider of cloud-based fraud prevention solutions that do not require personally identifiable information (PII), today released data on mobile transaction volume that took place during the 2011 Black Friday and Cyber Monday shopping days.
Findings showed the vast majority of mobile transactions were processed on an Android-powered device (58%) on both days. iPhone came in second, generating 32% of mobile device transactions on Black Friday and 30% of mobile transactions on Cyber Monday; the remaining transactions were split between Palm, Windows, BlackBerry and others.
This year's Cyber Monday boasted a 10.6% increase in mobile transactions over the 2011 Black Friday. In total, ThreatMetrix found that mobile transactions were up an impressive 591% year-over-year during the holiday shopping season.
"The increase in total mobile purchasing may be attributed to Android and Windows offering a larger product line with features that are now comparable to the interface of the iPhone," said Alisdair Faulkner, chief products officer, ThreatMetrix. "One differentiating factor in mobile purchases versus other forms of purchasing is the propensity for them to be intention-driven. Rather than using mobile devices to comparison shop, people who perform mobile transactions often know what they're going to buy, thus increasing conversion rates."
Transaction Trends by Day and Channel
ThreatMetrix also monitored mobile and desktop transactions by day, from October 30 through November 28, as well as by time on Cyber Monday. Compared to the beginning of the month, daily volume of mobile-based transactions doubled leading up to Cyber Monday.
"Mobile transactions can often be a factor of convenience, as we saw the majority of Cyber Monday purchases via this channel happened after the work day ended and consumers were likely in commute," said Faulkner.
Volume of Mobile Transactions Year-Over-Year
Over the past year, there has been a 50% increase in transactions that originated from a mobile device as a percentage of total web and mobile transactions combined; from 2% in 2010 to 3% of total purchases in 2011. While iPhone's share of mobile transactions decreased by 35%, Windows increased by 19% and Android mobile volume increased by 661%.
Faulkner added that retailers should be aware of the five primary fraud threats this holiday season, especially with the mobile channel becoming more popular: mobile device spoofing, use of botnets and malware, cookie-wiping, IP address cloaking, and the use of virtual private networks (VPNs). For more information on these fraud threats and how to protect against fraudsters please see ThreatMetrix's videos: "The Mobile Fraud Threat," "Malware and Mobile: How Big of a Threat Is It?" and "Top Three Tactics to Consider for Mobile Fraud Prevention."
About the ThreatMetrix Data
All data compiled for this report was based on ThreatMetrix, Inc. transaction data for 500 of the largest online merchants participating in the ThreatMetrix™ Cloud-Based Fraud Prevention Platform.
About ThreatMetrix:
ThreatMetrix helps companies stop web fraud and accelerate e-commerce in real-time so they can significantly reduce online fraud, acquire more customers faster, reduce costs, and increase customer satisfaction. The ThreatMetrix Cloud-Based Fraud Prevention Platform, incorporating ThreatMetrix SmartID™ cookieless device identification, provides online businesses with the ability to protect themselves and their customers by verifying new accounts, authorizing payments and transactions and authenticaticating user logins in real-time. Online businesses can deploy the ThreatMetrix Cloud-based Fraud Prevention Platform , which does not rely on personally identifiable information (PII), for traditional online activity via a personal computer as well as for mobile and tablet devices. The company serves a rapidly growing customer base around the world across a variety of industries including social networks (dating, gaming), financial services, e-commerce, affiliate marketing and payments. For more information, visit http://www.threatmetrix.com or call 408-200-5755.
© 2011 ThreatMetrix. All rights reserved. ThreatMetrix, the ThreatMetrix Cloud-Based Fraud Prevention Platform, ThreatMetrix SmartID, ThreatMetrix ExactID, and the ThreatMetrix logo are trademarks or registered trademarks of ThreatMetrix in the United States and other countries. All other brand, service or product names are trademarks or registered trademarks of their respective companies or owners.
###