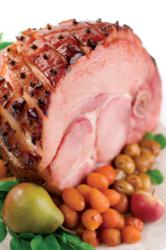 Winston-Salem, NC (PRWEB) December 01, 2011
December has arrived, and with it the litany of holiday season offerings. Those looking for a new way to update tradition and delight their dinner guests are encouraged to try this spicy Texas Pete® Chipotle ham glaze.
According to Texas Pete® Special Events Chef Tim Grandinetti, "It's a simple way to add a flavor bomb to the traditional holiday ham, and to give guests a meal to remember."
Texas Pete® Chipotle, Brown Sugar & Sorghum Glaze
Ingredients:
1 c Texas Pete® Chipotle Hot Sauce
2 c brown sugar
3/4 c sorghum
2 Tbsp. Grand Marnier
1/4 c orange juice
1/4 c thyme, dried
2 Tbsp. black pepper, fresh ground
Preparation:
Combine all ingredients - whisk together thoroughly.
Utilize as marinade, basting sauce, glaze & finishing sauce.
Texas Pete Hot Sauces can be found at many major supermarkets. A store locator is available at http://www.TexasPete.com to simplify one's product search. For more recipes designed to wake up the flavor of food, visit the Texas Pete® Web site recipe page at http://www.TexasPeteRecipes.com.
# # #
About TW Garner Food Company (http://www.texaspete.com)
Headquartered in Winston-Salem, North Carolina, TW Garner Food Company is famous for its Texas Pete® Hot Sauce, the number three brand of hot sauce in the United States. Founded in 1929 as a maker of barbecue sauce, the company now sells a full line of hot sauces, wing sauces and seafood sauces under the Texas Pete® brand, as well as salsa and tortilla strips under the Green Mountain Gringo® brand. Texas Pete® and Green Mountain Gringo® products are sold in supermarkets, military commissaries, convenience stores and restaurants throughout the United States. In 2010, Green Mountain Gringo® Salsa was named best overall salsa by Epicurious, among 20 retail salsas that were tested.
###