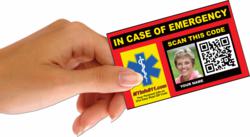 "If you bought it, a truck brought it".
Palm Coast, Fl. (PRWEB) December 08, 2011
When deciding what groups require special attention for their products, MyInfo911 needed only to venture onto virtually any roadway in America. According to the Bureau of Transportation Statistics, there are some 3.5 million truck drivers in the U.S., delivering over 69% of the raw materials, works in process, and finished goods in this country, far exceeding any other form of transport. Over 80% of communities in the U.S.rely exclusively on trucks to deliver all their fuel, clothing, medicine, and other consumer goods. There is an old industry adage: "If you bought it, a truck brought it".
The U.S. Department of Transportation estimates that there are over 500,000 truck accidents every year so it is no wonder that MyInfo911 recognized early on that this group could really benefit from their products. In addition to the risk of motor accidents, MyInfo911 realized that truckers spend long hours in a sedentary lifestyle. Lack of exercise, irregular sleep patterns, poor diet, stress, and bad habits such as smoking put truckers at higher risk for health conditions such as diabetes, hypertension, respiratory problems, and heart disease.
Chances are the trucker will be alone and far from home when a medical emergency strikes. With the MyInfo911 emergency ID card and sticker the trucker has a traveling companion at his side 24/7, which in the event a medical emergency strikes, can provide first responders instant access to the victim's medical history and health conditions, enabling them to administer treatment that is not only timely but geared to the victim's specific medical needs. MyInfo911 can also instantly notifiy emergency designates, such as next of kin and company personnel, alerting them to the possibility of a medical emergency.
There are some 500,000 trucking companies in the U.S., large and small, and what better way to give increased peace of mind to their workforce on the road, their families, and themselves than by providing effective and affordable state of the art products from MyInfo911.
About MyInfo911
Started in October 2010, MyInfo911 provides emergency identification cards that use QR codes to provide pertinent medical history information to first responders and other medical providers. The Palm Coast, Florida based company's cards have the person's picture, name and QR code on the front and the person's name, year of birth, emergency contact, blood type, allergies and specific medical conditions on the back. For more information visit http://www.myinfo911.com
###