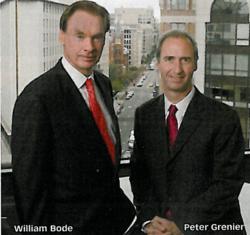 It is an honor to be recognized for great service to our clients.
Washington, DC (PRWEB) December 02, 2011
William Bode and Peter Grenier of the law firm of Bode & Grenier, LLP have again been recognized as among "Washington's Top Lawyers" and two of Washington, D.C.'s "best legal minds" in the December 2011 issue of the Washingtonian.
Mr. Bode heads the complex litigation section of Bode & Grenier and cases that he has litigated are widely cited in legal decisions. He has argued important cases before the U.S. Federal Courts of Appeals for the Second, Third, Fourth, Fifth, and Ninth Circuits and has argued before the U.S. Supreme Court. He is the author of the "Oil Pollution Handbook," and provides a monthly column on environmental and other legal issues entitled the "ILTA Legal Watch" for the Independent Liquid Terminals Association.
Mr. Grenier is the head of the firm's personal injury practice and has been recognized as one of the Washington D.C. area's top litigators for over a decade. Several years ago he obtained a record-setting $98 million jury verdict in a highly-publicized civil rights case against the District of Columbia. Since then he has continued to take on the most challenging and complex personal injury cases in the region and around the country. He recovered over $24,000,000.00 on behalf of his clients in 2010 and 2011.
Mr. Bode can be contacted at 202-862-4300 or wbode(at)bode(dot)com.
Mr. Grenier can be contacted at 202-862-4311 or pgrenier (at) bode(dot)com.
For general information on the Bode & Grenier, LLP firm see: http://www.bode.com.
###