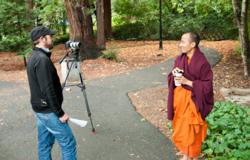 With Hillary Clinton's visit, Aung San Suu Kyi's party running for office, and the Hollywood movie "The Lady" coming out, Burma is more relevant than ever.
San Diego, CA (PRWEB) December 02, 2011
Award winning documentary filmmaker Jeff Durkin is beginning production on a new documentary entitled "Art as a Weapon", which looks at the intersection between street art, Buddhism, and human rights in the closed country of Burma. The film will give the audience a view of the undocumented creative movement that is happening on the Thai/Burma boarder while exploring the concept of "Art as a Weapon for Change."
Director Jeff Durkin began the film as a short documentary on artist Shepard Fairey and the creation of his 30 foot tall Burmese monk mural when a surprise phone call sent the documentary in a political direction. Nobel Peace Prize winner and Burmese democracy leader Aung San Suu Kyi was making her first phone call to the U.S. after being released from a seven year house arrest term. After getting the audio recording of that phone call, a documentary about art, politics, and human rights was launched.
Jeff Durkin believes that the story of Burma has great artistic range; "with characters like the spiritual leader Aung San Suu Kyi, noble Buddhist monks, and a brutal military regime all set against the background of a tropical paradise." And a new story is just beginning - starting with the visit of US Secretary of State Hillary Clinton, who is the first Secretary that has traveled to Burma in 50 years. In addition, Aung San Suu Kyi and her party are running for office, the monks are protesting for the release of all political prisoners, and there is even a Hollywood film about Aung San Suu Kyi being released this month.
In order to complete the film, Durkin has launched a Kickstarter fundraising campaign to raise $30,000 in 60 days to send a team of filmmakers to the Thai/Burma border. Kickstarter is a platform that provides the opportunity for art to be supported by the people for the people, which has a direct link to the ideals of democracy and street art. "What makes this project unique is that Kickstarter supporters can become part of the creative process by suggesting interviews and giving feedback on the project before it's released. Supporters can get cool rewards like a signed DVD of the film, and their name in the credits.
Kickstarter is an all-or-nothing platform, and the project must meet its financial goal or all donations will be refunded. Currently 70% of the goal, and $20,000 has been raised as of December 1st, 2011, and needs another $10,000 by December 9th, 2011 or it all gets canceled.
Jeff Durkin is an award-winning filmmaker who makes documentaries about creative people and their lives. His films have won him awards worldwide and have been screened at the Los Angeles Film Festival, Melbourne Film Festival, Utah Docs, Cinefest, and the London International Documentary Festival.
To learn more about the film and donate, visit the KICKSTARTER SITE :http://kck.st/qkUTKX
###