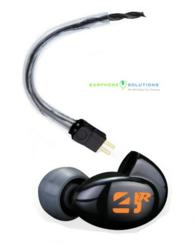 The W4R are far more detailed than I was expecting and the level of detail across the board so far has been impressive
Orlando, FL (PRWEB) December 03, 2011
EarphoneSolutions.com from Orlando, FL, is one of the few official distributors of the new launched Westone 4R earphones.
The exceptional earphones are engineered into an advanced three-way crossover network to deliver radical clarity, realism and imaging for listeners. Intended for listeners who do not want to compromise comfort and superb audio quality, the Westone W4R incorporates True Fit Technology with a low-profile, lightweight body designed for longer listening and comfort.
Earphone Solutions is committed to providing customers with exceptional service and lower prices. Earphone Solutions is located in Celebration (Orlando), Florida and is the online authorized dealer and destination for the new Westone W4R. With over 2,500 customer product reviews of high end earphones, the Company beats Amazon's prices, and customers find the easy ordering through Earphone Solutions a safe and secure buying experience that also includes a manufacturer's warranty. The Company warns there are some Amazon resellers who are not authorized dealers where purchasers may find their manufacturer warranty void.
The world's first universal fit earphone with four symmetrically balanced armature drivers and removable cables retails for $499. The Westone 4R is the first universal Quad-Driver earphones with removable cables ever built. The Westone W4R uses an over-the-ear cable design offering advanced in-ear comfort and isolation from microphonics. The low snag, low profile right-angle 3.5mm connection works with most personal media devices such as iPhones and iPods. The dual low frequency, single mid and single high frequency driver system is the secret to the ultimate sound and listener experience while the fifty inch Earphone Precision Interconnect Cable with ultra supple braided design is also removable and features a low profile two-pin connector with high-strength, ultra-low resistance tensile wire that insures comfort and resists tangles.
Earphone Solutions works exclusively by mail, telephone, and online orders and ships to APO/FPO addresses via Priority Mail. With customers all over the world, the exceptional products and service provide reliability people can trust.
The reviews are in and Joey Russo states "The W4R are far more detailed than I was expecting and the level of detail across the board so far has been impressive." He goes on to say, "These are more than just a refined W3. The mids aren't over the top or in your face, but they are more forward than the W3. They are detailed, full bodied but not overly warm. They aren't clinical or sterile, they're just right to my ears. "
Earphone Solutions may have the most desired Holiday gift buying opportunity in the new Westone W4R.
The Company is proud to be supplying the high quality headphones to the public and invites enthusiasts to learn more by visiting http://earphonesolutions.com
###