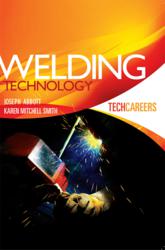 For a new worker with the right attitude – and the right education – the welding profession is a seller's market, and the opportunity for advancement is nearly endless.
Waco, Texas (PRWEB) December 02, 2011
TechCareers: Welding Technology, TSTC Publishing's newest publication, offers employment overviews, skill requirements, education and training information and everything else needed for a career in the welding and metal-working business. Today is the official release of the paperback book. An ebook version debuted last month.
The book retails for $14.95 in paperback and $9.99 for the ebook. It is available from all major book retailers, including Amazon, Barnes & Noble and directly from TSTC Publishing.
Written by Joseph Abbott and Karen Mitchell Smith, the book is divided into two sections: welding careers and welding education and certification. This book provides an overview of the field including detailed information on career pathways, skill sets and educational requirements. Welding Technology also gives an employment outlook, salary ranges, job titles, career paths and job duties, and features profiles of welders, employers and instructors in the field.
The U.S. Department of Labor predicts there will be about 400,000 vacant welding positions by 2014 with not enough welders to fill them. The majority of today's welders are from the retiring Baby Boomer generation, leaving the job market wide open for upcoming welders.
As of May 2008, the average hourly wage for a welder was $16.13 an hour, or $33,550 a year. The top 10 percent of welders made upwards of $25 an hour, or $52,000 a year. Welding engineers, the highest paid type of welders, on average make $39.34 an hour, or $81,827 a year. The salary, of course, depends on location, experience and education.
The book offers a list of job titles and corresponding duties welders can find in their industry:

Boilermaker – building and maintaining metal vessels and structures
Pipefitter – installing and maintaining pipe systems and supports
Reinforcing and structural iron worker – installing girders, columns and other construction materials
Sheet metal worker – making, installing and maintaining items made from sheet metal
Underwater welder – working on underwater projects like offshore platforms
Welding machine operator – setting up and taking care of welding machines
Welding educator – teaching others how to weld
Welding sales – selling welding equipment and supplies
In the second half, the book outlines education requirements, certificates and degree programs, graduate degrees and American Welding Society (AWS) certification. There also are online welding resources, including an extensive list of colleges and universities in the United States offering degrees in welding and a list of welding blogs.
Today, industries rely on the expertise of highly skilled welders because lives depend on the quality of welders' work. Welding is not just crafting two pieces of metal together. It requires technological savvy, too, with welders using newer technologies like lasers, electron beams and ultrasounds from behind a computer console operating a remote device.
"We are seeing more and more technology coming into play, so it doesn't have the stigma of welders being high school dropouts that it once had," says Dave Cotner, head of the welding program at Pennsylvania College of Technology.
From employment outlook to job duties to the necessary skill sets a welder is expected to possess, TechCareers: Welding Technology provides vital information any prospective welding student needs to know.
The TechCareers Series is a joint effort of TSTC Publishing, the publishing arm of the Texas State Technical College System, and TSTC Forecasting. The series includes: Biomedical Equipment, Automotive Technicians, Avionics Technician, Wind Energy, Computer Gaming Programmers & Artists and Welding Technology. Other forthcoming books include Aviation Pilots, Aviation Maintenance, Graphic Design and Radiation Protection Technology.
Abbott is a native of Marfa, Texas, and a longtime writer and editor based in Waco, Texas. He graduated from the University of Texas at Austin with a degree in English and has written on various topics ranging from meteorology to space shuttle launches. Mitchell Smith is a longtime educator and freelance writer from Weatherford, Texas.
Established in 2004 as the publishing arm of the Texas State Technical College System, TSTC Publishing offers faculty throughout the country the opportunity to initiate and participate in a variety of book development projects. TSTC Publishing projects now include such ancillary products as instructor guides, student workbooks, CD-ROMs, DVDs, ebooks and companion websites. In addition to offering editorial help and guidance to faculty, assistance also is available in the areas of materials production, distribution and sales.
###