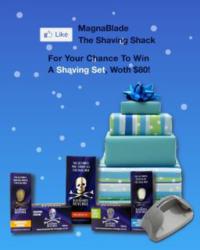 MagnaBlade manufacturers an amazing product...
Seattle, WA (PRWEB) December 03, 2011
DNA Response, Inc., provider of multi-channel e-commerce, marketing and order management solutions, has launched a special holiday Facebook Sweepstake for its web store MagnaBlade. It will also be partnering with The Shaving Shack, a "one stop shop" for all male grooming requirements for this contest.
Users will enter to win a shaving set worth $80, featuring a MagnaBlade and the Bluebeards Revenge Starter Pack, which includes a pre-shave oil, shaving cream, post shave balm, "Doubloon" bristle shaving brush and an anti-perspirant deodorant. To enter, users must "Like" MagnaBlade and The Shaving Shack's Facebook page and then enter their name and email address into the sweepstakes form on MagnaBlade's page. The winner will be announced on Tuesday, December 6, 2011.
MagnaBlade magnetically sharpens razor blades, making them last 2-6 times longer than normal and allows customers to save hundreds of dollars a year on razor blade replacements. MagnaBlade extends the performance of razor blades thanks to its patented magnetic energy force. As a result, blade molecules have a great bonding power and the blade will not separate as easily or as quickly. MagnaBlade does not need batteries or a charger; it operates on magnetic energy alone.
The Shaving Shack is a web store dedicated to stocking top quality shaving products at great prices. It carries some of the leading brands like The Bluebeards Revenge, Merkur, DR Harris, Parker, Tabac and many more.
"We are delighted to partner with MagnaBlade on this excellent promotional offer," said Nick Gibbens from The Shaving Shack. "MagnaBlade manufacturers an amazing product which saves the typical shaver hundreds of dollars each year so we are thrilled to be working with such a valuable and respected brand."
About DNA Response. DNA Response, Inc. (DNA) provides turnkey e-commerce, online marketing, and order management services to companies in the $300 Billion direct response market. DNA clients sell products direct to consumers using TV, radio, print catalogs, web and mobile as their sales channels. DNA's ECOM2TM platform utilizes state-of-the art cloud computing technologies and services to improve operational efficiency by reducing transaction costs, eliminating credit card declines, and lowering order cancellations and product returns, while simultaneously increasing online revenue for our clients. DNA provides universal order management for processing orders in real time from all the sales channels with full visibility to the business for the clients. DNA generates incremental revenues and helps build a brand for our clients by providing comprehensive e-commerce and online marketing services.
###