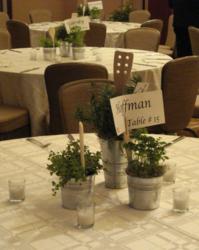 Hoffman Design Group donated 30 centerpieces complementing the event's theme of gourmet food.
Folcroft, PA (PRWEB) December 02, 2011
Leading corporate floral arrangements specialist, Hoffman Design Group, provided unique displays as part of the first annual Rising Star Chef Dinner fundraising event. The event was held on Friday, November 18, 2011 at the Hilton Inn at Penn.
The night featured the collaboration of top students from local culinary arts institutions with accomplished alumni, who worked together to create a multi-course gourmet meal. Participating schools included: The Art Institute of Philadelphia, the Burlington County Community College Culinary Program, the JNA Institute of Culinary Arts, and the Philadelphia Opportunities Industrialization Center.
In keeping with the theme of the evening, Hoffman Design Group provided 30 centerpieces of galvanized pails filled with a variety of herbs including lavender, rosemary, purple sage, lemon verbena, and parsley.
Presented at the event was the Dr. Audrey E. Evans Award of Excellence to N. Scott Adzick, M.D., M.M.M. Surgeon-in-Chief at The Children's Hospital of Philadelphia (CHOP), for his dedication and innovations in the field of fetal medicine. Proceeds from the event benefitted the Philadelphia Ronald McDonald House. For information on how you can help, visit the Philadelphia Ronald McDonald House website at http://www.philarmh.org/.
About Hoffman Design Group
Hoffman Design Group, Inc, is located in Folcroft, PA, and specializes in creating beautiful interiorscapes, corporate floral arrangements and living wall designs in Philadelphia and the surrounding suburbs, Delaware, and New Jersey. Its designs have won many awards and they take pride in their elegant, environmentally friendly seasonal and holiday decorating, corporate interior plantscapes and urban exterior landscaping. For more information, visit http://www.hoffmandesigngroup.com
###