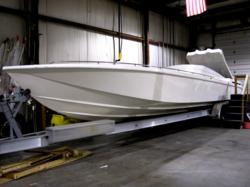 Holland, Michigan (PRWEB) December 02, 2011
Powerquest Boats, a long time "make you stop and look" boat - after decades of operations and developing premier status in the industry, will liquidated by order of secured creditor. All assets, remaining equipment, & boat molds will be sold to the highest bidder via online auction.
Powerquest is just one more well known Michigan company that has been the victim of a sluggish economy. Powerquest boats were recognized for years as some of the more prestigious and classy boats on the lake.
The preliminary offering of the boat molds ends Tuesday, December 6th via sealed bid auction through Orbitbid.com. This sealed bid auction will feature all of all of the boat molds and accompanying templates from the Powerquest Boats manufacturing facility. This initial offering features several models such as the 320, 300, 290, & 280 Sport Cruisers, larger models up to the 380 Avenger, and smaller models down to the 220 Raizor, and everything in between. To preview items or get a copy of the sealed bid form, please contact Jon Kuiper at 616.560.4992. All bids must be submitted no later than Tuesday, December 6, 2011, at 5:00pm, ATTN: Jon Kuiper by either fax @ 616-583-1573 or email @ jkuiper(at)orbitbid(dot)com.
The second & main auction event will be an online auction beginning at 8am on Orbitbid.com and begins closing at 6pm. This will be the plant liquidation and feature: New Mercury Racing Mercruiser 525 Motors, In-Production Powerquest Boats, Full Line of Boat Molds, Huge Parts Inventory, 20'W x 18'H x 50'L Paint Booths, '99 Ford F-250 Super Duty Pickup, '95 Chevy Pickup, Mitsubishi FG25 Forklift, Magnum Wet Out Systems, Miller Welders, Support and Shop Equipment, & much more. You may preview these items anytime online at Orbitbid.com or in person Mon. Dec. 12th from 9am-4pm and sale day 8am-5pm. All items are located at 2385 112TH Ave., Holland, MI. Here you will find the direct link to the auction: http://bit.ly/u4K0X1.
For more information about this auction, visit Orbitbid.com or call Orbitbid.com at 1-866-ORBIT-06.
###