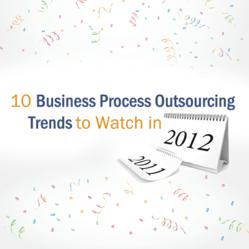 El Paso, TX (PRWEB) December 03, 2011
DATAMARK Inc., a leading business process outsourcing firm headquartered in El Paso, Texas, recently released their predictions for the hottest 10 business process outsourcing trends to watch in 2012.
As expected, emerging technologies continue to change the face of BPO, and the uncertain economy has companies reviewing outsourcing options within the U.S., nearshore in Latin American and farshore in India, the Philippines and China.
Below are 5 of the top 10 outsourcing trends, in no particular order.
1. The rise of mobile apps.
Executives and managers hate being chained to their desks, and they love the power of tablets and smart phones. Expect BPO providers to provide clients with mobile apps for monitoring and auditing outsourced processes. Features will incorporate business intelligence, dashboards, analytics and instant messaging with the provider.
2. The "social" contact center.
Customer rants or raves are no longer limited to phone calls and email missives. Outsourced contact centers will have savvy staff keeping customers happy and engaged through Facebook, Google+, Twitter and other social networks. "Social Customer Relationship Management" will include following chatter on social networks. Quick-reaction teams will be ready with a strategy and response to potential PR debacles.
3. Gamification will liven up the dull side of BPO.
Business process engineers will apply game theory to more and more business processes as a way of driving innovation into the enterprise. Although gamification has emerged in the past year as a hot buzzword, the concept, as applied to business, has been around seemingly forever. Examples are frequent-flier miles and other promotions that reward a loyal consumers looking to "level-up" in the game. Game mechanics make repetitive processes more fun, keep rules and goals clear and consistent, and deliver rewards (think cash bonuses) to staffers based on merit, rather than "who you know" or "how long you've been here."
4. Public-private initiatives worldwide will stimulate BPO growth.
Countries will aggressively compete for a slice of the global BPO market, which is expected to grow at a annual rate of 5.4 percent to $93.4 billion in 2015, according to analyst Ovum. Providers, industry groups and governments at all levels will ally to develop incentives to attract BPO jobs. Lures will include breaks on taxes and fees, as well as free or low-cost courses to improve residents' English skills and technological know-how. As India becomes more expensive, look for the Philippines, China, Africa and Latin America to roll out the welcome mat for outsourced business processes at the low to mid-point of the value chain.
5. The U.S. will take a lesson from international public-private alliances.
The U.S. ruralshoring model—outsourcing processes to communities with low costs of living—will continue to intrigue companies that are not satisfied with their farshore experiences. Astute governments at the state and local levels will take a page from competing countries' playbooks and engage chambers of commerce and BPO providers in strategies to bring those jobs home.
For the full article, read 10 Business Process Outsourcing Trends to Watch in 2012.
About DATAMARK
DATAMARK, Inc. is a leading business process outsourcing company specializing in high-volume digital mailrooms, document processing and document management services for large enterprises. Headquartered in El Paso, Texas, DATAMARK employs nearly 2,200 people in its U.S., Mexico and India facilities. For more information, visit DATAMARK.net
###