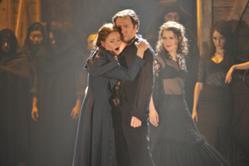 Opera and ballet enthusiasts are chomping at the bit to return to Düsseldorf's Opera House for 3 premieres.
Düsseldorf, Germany (PRWEB) December 01, 2011
With renovations of one of Germany's prime cultural venues complete, opera and ballet enthusiasts are chomping at the bit to return to Düsseldorf's Opera House for better acoustics and an expanded orchestra pit, highly anticipated premieres of some of the world's most popular operas, and a production of Rossini's "Barber of Seville" inspired by the world of insects.
"Barber" is the first to open, on December 2. Director Claus Guth will dazzle audience with his production – as he has done in Basel, Munich and Leipzig, – including characters acting out the famous comedy as flies, bumble bees, and butterflies – all with very human traits. The production is praised for its meticulous attention to the musical and behavioral similarities between insects and humans – and how enjoyable it is to watch.
Next on December 3 comes the new ballet piece by Martin Schläpfer, simply titled "b.10," a collection of three separate stories about human relationships in expressive choreographies. In his new piece, Schläpfer combines two of his most interesting ballets, – "Third Piano Concert" and "Tanzsuite," – with a masterpiece by Czech choreographer Jiří Kylián, "Symphony of Psalms". Schläpfer has been called "Choreographer of the Year" in 2010 by dance critics.
Last but not least is the premiere of "Carmen" on December 4. The premiere is sold out, but performances continue through summer 2012. Opera House Chief Musical Director Axel Kober will conduct Georges Bizet's famous masterpiece.
For more information about the 3 premiers and the upcoming 2011/2012 season at Düsseldorf's Opera House (Deutsche Oper am Rhein), please visit http://www.operamrhein.de.
For hotel and travel specials, called "Art in Düsseldorf," offered by the city's tourism office, see the travel offers page on http://www.visitduesseldorf.de/
Düsseldorf Marketing & Tourism GmbH is the visitors and convention bureau of the city of Düsseldorf. Its responsibilities include tourism and city marketing, as well as conference and meeting marketing, hotel reservation services, fairs and convention services, city event ticket sales and advance ticket reservations. For more information, visit http://www.visitduesseldorf.de.
Düsseldorf International Airport, Germany's third largest, offers several non-stop flights from US & Canadian cities (Atlanta, Chicago, Ft. Myers, Los Angeles, Miami, New York, Newark, Toronto, San Francisco, Vancouver), as well as convenient connections to many European cities. For more information about the airport, visit http://www.fly2dus.com.
###