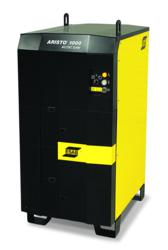 The ESAB Aristo 1000 AC/DC gives the best welding performance with the lowest power consumption.
(PRWEB) December 13, 2011
ESAB Welding and Cutting Products introduces the new ESAB Aristo 1000 AC/DC power source for sub arc welding.
The Aristo 1000 AC/DC is an inverter power source that can be connected to three-phase input voltage supply (from 380 to 575V at 50 or 60 Hz). This power source uses unique, patent-pending technologies to deliver the best welding performance with the lowest power consumption. The result is a power source that will deliver more welding per kilowatt-hour.
The Aristo 1000 AC/DC allows the user to switch between AC and DC currents without stopping the welding process. This "on the fly" function minimizes downtime and maximizes weld quality because the user doesn't have to stop and re-start when changing currents.
The Aristo 1000 AC/DC offers full control of the settings for AC welding. Using the Bead Profile ModelingTM function gives the operator full control over the AC frequency, balance and offset. This allows the user to optimize penetration profile, heat input, deposition rate, arc stability and stirring effect to suit the situation and need.
Two Aristo 1000 AC/DC units can easily be connected in synchronized parallel mode to deliver more welding current. This machine is designed for heavy-duty industrial environments and is ideal for welding wind tower structures, nuclear components, beams, bridge components, trailer beams, excavator components, and for general fabrication.
The Aristo 1000 AC/DC features Cable Boost technology, which stores energy and instantly delivers up to 450% more energy when needed. Users can double the maximum usable weld cable length without compromising weld quality.
Cable Boost saves energy by re-using the inductive energy generated in the welding cables in the welding process instead of allowing that energy to be wasted as heat and power loss.
The Aristo 1000 AC/DC can be controlled by a remote function and can easily be switched off – even in a remote location – to save energy.
The Aristo 1000 AC/DC is built for the toughest environments while reducing installation and operating costs. The machine's power-efficient components reduce installation- and running costs and reduce carbon footprint.
The Aristo 1000 AC/DC is perfect for automated welding. A DC arc is normally used for the root pass to achieve full penetration. With the Aristo 1000 AC/DC's "on the fly" switching function, the operator can switch over to an AC arc without stopping the process when welding on round objects. This minimizes downtime and the risk of weld defects as the stop and re-start sequence is completely eliminated.
The Aristo 1000 AC/DC is designed to be used in installations where long welding cables are necessary, since AC welding is more demanding and sensitive to voltage drops.
One of the most common reasons for a production stop in a welding installation is damaged cables or broken connectors. The Aristo 1000 AC/DC has no connectors or cables at any exposed positions. All cables are connected behind a door in the front of the machine, making them easily accessible for service while being well protected from damage.
The cooling fan only runs during welding, which results in less energy required and consumed, lower noise levels, and less dust inside the cooling channel.
Column and Boom (CaB) System
For the ultimate automated sub arc welding package, combine the Aristo 1000 AC/DC inverter with the Column and Boom (CaB) system and Spoolarc 81 wire.
The CaB offers short set-up times and fast, exact work piece positioning. Travel speeds are pre-programmable and the column is capable of 180-degree rotation. Any ESAB A2 or A6 welding head can be mounted to the boom with a swiveling mounting bracket, allowing the welding head to perform external and internal longitudinal and circumferential welding in various weld joints and work pieces.
The CaB is available with different types of foundation – choose from stationary or rail-traveling carriages.
Spoolarc 81 Wire
Spoolarc 81 is a medium manganese and silicon wire with nominal rust and mill scale tolerance. This wire is ideal for general purpose welding on low and medium carbon steels.
When paired with OK Flux, Spoolarc 81 yields excellent results in demanding environments.
Spoolarc 81 used in conjunction with the CaB system and the brand-new Aristo 1000 AC/DC power source yields superior results.
ESAB Welding & Cutting Products is one of the world's largest and most experienced manufacturers of welding and cutting equipment and welding filler metals. Recognized as the technological leader in the industry, ESAB is committed to providing cost effective solutions for its customers. For more information, visit http://www.esabna.com or call 1-800-ESAB-123.
###