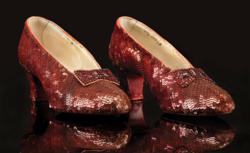 Profiles in History to auction off over $13 million worth of Hollywood collectibles in its December 2011 Auctions
Los Angeles, CA (PRWEB) December 02, 2011
Profiles in History, run by Joe Maddalena, is gearing up for their biggest month of Auctions ever. This Saturday is Debbie Reynolds The Auction Part II and features Marilyn Monroe costumes from Let's Make Love, Niagra and Bus Stop as well as Charlie Chaplin's 1918 Bell & Howell Model 2709 35mm camera and the Panavision PSR 35mm camera used by George Lucas to film Star Wars.
Then on December 15 & 16th is the Icons of Hollywood Auction truly lives up to its title. With lots from The Wizard of Oz that include the screen used close-up pair of Ruby Slippers ($2,000,000-3,000,000) that are from the climax of the film when Judy Garland clicks here heels together three times and says, "There's no place like home." To go with the slippers you can bid on Judy Garland's blue and white gingham pinafore dress, one of the most recognizable costumes in film history ($200,000-$300,000). Finally, you can own the Cowardly Lion costume that was worn when the Cowardly Lion first meets Dorothy on the Yellow Brick Road and sings "If I were King of the Forest" ($2,000,000 - $3,000,000).
From Back to the Future III you can own the screen used DeLorean time machine ($400,000-$600,000). This is the only surviving DeLorean in private hands from the Back to the Future trilogy. This particular car was used in the 1955 drive-in movie scene when Michael J. Fox drives it into the past and lands in 1885 to find Doc. From the second Back to the Future is Thomas F. Wilson's Griff Tannen Pitbull hoverboard ($15,000-$20,000). Other items from the Back to the Future trilogy include Michael J. Fox's Marty McFly jacket from Back to the Future, a complete Marty hero Mattel-brand hoverboard from Back to the Future II, and Christopher Lloyd's Doc shirt from Back to the Future. Overall, there will be over 100 items from Back to the Future -- easily the largest collection of props and memorabilia ever assembled from the trilogy. Part of the proceeds from this section of the auction will benefit the Michael J. Fox Foundation for Parkinson's Research.
Additional iconic items in the auction include Marilyn Monroe's wedding ring from her marriage to Joe DiMaggio ($300,000-500,000) and a Marilyn Monroe nude painting by Earl Moran ($70,000-$90,000), Bela Lugosi's iconic cape from Dracula ($1,500,000-2,000,000), Elizabeth Taylor's extravagant on set trailer from Cleopatra ($50,000-75,000), Howard Terpning's poster artwork for Cleopatra featuring Elizabeth Taylor, Richard Burton and Rex Harrison ($60,000-80,000), Steve McQueen's racing suit from Le Mans ($200,000-$300,000), Soviet cosmonaut Svetlana Savitskaya's flown Sokol-KV-2 space suit ($200,000-300,000), a very rare early Gemini Program G-2C spacesuit, helmet and gloves with G-5C boots ($150,000-250,000), a screen used 1969 Dodge Charge "General Lee" jump car from The Dukes of Hazzard ($40,000-60,000), the Central Perk signature orange couch from Friends ($4,000-6,000) as well as the familiar yellow peephole frame from Monica's apartment. There are over 1200 lots in the Icons of Hollywood sale.
Then on December 17th the Icons of Animation Auction will be held where you will find 641 lots of original production cells, concept art and model sheets highlighted by the earliest known color production cell of Mickey Mouse from 1932 "Parade of the Award Nominees" ($80,000-120,000). Also to be sold is original Charles Schulz Peanuts "Great Pumpkin" daily comic strip artwork ($20,000-30,000), a monumental-scale production background with Maleficent cel from Sleeping Beauty ($60,000-80,000) and original Dentzel carousel horse Walt Disney purchased for Disneyland and gifted to his very first Imagineer Roger Broggie ($30,000-50,000).
ABOUT PROFILES IN HISTORY
Founded in 1985 by Joseph Maddalena, Profiles in History (http://www.profilesinhistory.com) is the nation's leading dealer in guaranteed-authentic original historical autographs, letters, documents, vintage signed photographs and manuscripts. Born into a family of antiques dealers in Rhode Island, Joseph "Joe" Maddalena learned early on how to turn his passion of collecting historical autographs into a career. Needing to support himself, Joe turned to his hobby of buying and selling historical documents as a potential way to earn revenue. On weekends he scoured old Hollywood bookstores for letters and rare books. Upon graduation from Pepperdine, Joe pursued his passion to become a full-time dealer of historical documents, and opened his first office in 1985. A lifetime member of the Manuscript Society, Joe is widely recognized as the nation's leading authority on entertainment memorabilia and historical documents. Profiles in History has established itself as the world's largest auctioneer of original Hollywood memorabilia, having held some of the most prestigious and successful auctions of Hollywood memorabilia and owning virtually every Guinness Book record prices for original screen-used memorabilia. With an extensive network of dealers, collectors, and institutions, Profiles in History is proud to play an important role in the preservation of motion picture history. Prior Profiles in History Hollywood auctions highlights include a full-scale model T-800 Endoskeleton from Terminator 2: Judgment Day ($488,750); Marilyn Monroe's "Diamonds" dress from Gentlemen Prefer Blondes ($356,500); Luke Skywalker's light saber from Star Wars ($240,000); Margaret Hamilton's "Wicked Witch" hat from The Wizard Of Oz ($230,000); and The Invisible Man 1933 one-sheet movie poster ($230,000). Most recently from the history-making Debbie Reynolds Auction in June 2011, Profiles in History sold the Marilyn Monroe "Subway" Dress from The Seven Year Itch for $5.52M, the Marilyn Monroe signature red-sequined showgirl gown from Gentlemen Prefer Blondes for $1.44M and the Audrey Hepburn Ascot Dress from My Fair Lady for $4.44M. In addition, Joe Maddalena is the star of SyFy's hit show, Hollywood Treasure. With already 24 episodes aired, Hollywood Treasure is gearing up for an exciting return in 2012.
Media Contacts:
Nancy Seltzer, Nancy Seltzer & Associates
Phone: 323 938 3562, e-mail: nseltzer(at)nsapr(dot)com
###