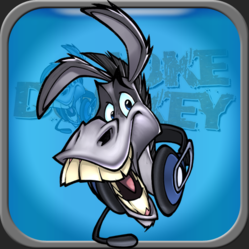 Telling a parlor joke is an art form of its own within the comedy genre. I see it as the 'Haiku of comedy.'
(PRWEB) December 06, 2011
The Broadband Comedy Network (BCN) (http://www.bcnonline.com) today announced the immediate availability of its new Android and iOS application – The Joke Donkey, (http://www.jokedonkey.com), which provides mobile access to the popular Joke-of-the-Day service with an expansive storehouse of exclusive comedy content, or "Comtent," as well as the option to buy bales of themed jokes. Unlike other texted-based joke apps, Joke Donkey content is audible entertainment, performed by Joke Masters.
"Telling a parlor joke well is an art form of its own within the comedy genre," said Eric Bergez, president of the Broadband Comedy Network. "I see it as the 'Haiku of comedy.' The essence of a joke can often only be heard when performed by a master joke teller, and this doesn't always mean that the Joke Master must be a comedian."
The Joke Barn is a core feature of the Joke Donkey application. It is here that Joke Donkey members can purchase Bales of Jokes and store them in their iOS or Android devices to share with friends and family. Bales are bundles of themed jokes, including such categories as pirate jokes, blonde jokes, religious jokes, the ever popular "a-guy-walks-into-a-bar …" jokes and others.
Along with the Joke of the Day and the Joke Barn, a subscription to the Joke Donkey includes instant access to BCN Online – BCN's all-comedy Internet radio service - which has been "Equally Insulting Everyone Since 1998."
"Reading a joke just doesn't cut it in the 21st century," said Mark Morgann, senior joke master at BCN. "The Joke Donkey Joke Masters not only entertain you with hilarious 'Comtent' but assist you in how to tell the joke to your classmates, colleagues and friends so that you too can become a master joke teller. Because of this, we are quality conscious about the performance of the joke, and are always searching for the next great Joke Master."
The Joke Donkey iOS app is available now direct from the Apple App Store, and The Joke Donkey for Android is available from the Android Market; both cost only $0.99 to download and $0.99 per Bale of Joke in the Joke Barn. All mobile purchases include instant access to the joke-of-the-day service, one free mixed Bale of jokes in the Joke Barn, and access to BCN Online. Fans who do not use iOS or Android devices can also sign up online for access to JokeDonkey.com for a monthly fee of $1.99 - website members gain HD access to BCN Online.
About Broadband Comedy Network, Inc.
The Broadband Comedy Network, Inc (http://www.bcnonline.com) is the world's leading comedy Internet radio network specializing in stand-up comedy from classic comedians such as Bill Cosby and George Carlin to contemporary comics such as Daniel Tosh and Eddie Izzard. Established in 1998, BCN Online has been offending everyone on an equitable and balanced basis for over a decade, and sees no reason to stop now.
###