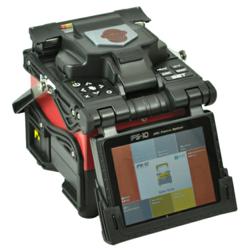 the Best Fusion Splicer on the market, and at only $9,990...
Phoenix, AZ (PRWEB) December 04, 2011
EFiberTools.com introduces the Inno Instrument IFS-10 fusion splicer. The first fusion splicer in the US market truly able to compete with the name-brand manufacturers, but at a considerably lower price. The Inno is considered by some to be the 'Best Fusion Splicer' on the market, plus it's only $9990 for the full kit.
Called The Fiber Master, the IFS-10 is manufactured in South Korea and should not be confused with the splicers out of China. The Inno uses core alignment technology and at only around 4.5 lbs the IFS-10 is designed for high-precision splicing applications, harsh weather conditions. The splicer is well-built with a friendly GUI with intuitive menu options, 350x splice capacity using lithium batteries, upgradable software with USB, and a feature not common anymore, a bi-directional monitor which can be positioned in front or rear.
EFiberTools.com is the only distributor currently with stock. Calibrations and repairs are done in their Phoenix location by factory trained technicians. Generous credits are available to trade-in your fusion splicer, working or not, with some exceptions.
"The Inno IFS-10 has been called the Best Fusion Splicer on the market, and is priced at only $9990. Many are tired of being gouged on prices and repairs due to artificially high prices in the US from companies like AFL and Fujikura", states Daniel Parsons, Owner of eFiberTools.com
South Korea has become known more for quality electronic and other products and the Inno IFS-10 fusion splicer is more evidence of this. The IFS-9 was Inno's first model but the company chose to wait until they perfected the IFS-10 before introducing it to the US and the "demanding" US customer.
Finally, US customers have a choice. The Inno IFS-10 is the first fusion splicer to hit the US market truly ready to compete against the long-held dominance of Fujikura, Fitel, Sumitomo, and Corning. Pricing on the Fujikura FSM-60s fusion splicer, for instance, is controlled by AFL and Fujikura. Together they have artificially inflated the price of the FSM-60s to US customers to be about twice as much as is paid in other countries outside of AFL's control. Knowing this, why would anyone buy a Fujikura when they can get the quality in the Inno IFS-10 for 40% less? That's a $6000 savings.
EFiberTools.com even offers a money-back guarantee and will send a free demo unit for a 5-day evaluation to select companies. With a price tag of only $9990, the IFS-10 is easily the best-value in a new core-alignment fusion splicer in the US market today. The complete splicing kit includes VF-78 fiber cleaver, heavy-duty case, battery, charger, cables, user documentation and software, plus an exclusive 2-year limited warranty with US service and support
Dealers wanted! EFiberTools is currently looking for resellers and manufacturer reps to market INNO products. Drop-shipping is available to recognized resellers. Special discounts are available to fiber optic training schools and other educational organizations. Quantity discounts are also available. Anyone interested in the Inno fusion splicers or cleavers should contact eFiberTools.com at sales@efibertools.com.
ABOUT EFIBERTOOLS.COM
EFiberTools offers the best value in fiber optic tools and supplies and stocks a wide range of fusion splicers, OTDRs, optical test equipment, fiber optic cabling and connectivity, and other fiber optic products. Not only will you find the Inno splicers and cleavers but also the largest selection of quality used and refurbished splicing equipment from Fujikura, Fitel, Sumitomo, Emitor, Ilsintech, Vytran and others.
EFiberTools.com is known for great quality splicing consumables such as electrodes, cleaver blades, splice protection sleeves, and optical cleaning products all at fair and competitive prices. All of our consumables are fully guaranteed with your money back if you are not completely satisfied.
EFiberTools.com stocks fiber optic test equipment--brand-name and no-brand—such as OTDRs, optical power meters, light sources, loss test sets , fault locators , fiber identifiers, interferometers, talk sets, fiber inspection, and much more. Soon we'll be adding fiber optic networking products such as media converters and switches, and have a large selection of fiber optic connectors, pigtails and other connectivity products.
Local customers can stop by our Phoenix location at 329 W. Melinda Ln., Phoenix AZ 85027, M-F, from 7:30 am-4:00 pm to check out the fusion splicer. Visit our completely redesigned website at http://www.efibertools.com. Hundreds of new products will be added in the coming months. Be sure to contact the company if you need certain products, or are not satisfied with your current supplier.
EFiberTools.com just rolled out the first-phase its new ecommerce software in September after over two-years of development, with continued expansion. More customer features are planned and hundreds of new products will be added. The company works with a range of manufacturers from around the world to get the quality products and best prices. Many new products are not available through any of their competitors. Sign up for their email list to keep up with new products and specials.
More information is available on the Inno IFS-10 fusion splicer and other brands at http://www.efibertools.com and the fusion splicer blog http://www.FusionSplicers.org. To sell surplus fusion splicers or other optical test equipment contact eFiberTools at purchasing(at)efibertools(dot)com. All other inquiries contact nfo(at)efibertools(dot)com.
###