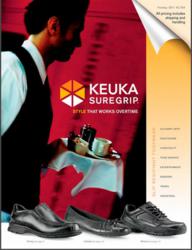 We are excited to team with Lorel to offer our customers an interactive way to shop from our catalog. This highly engaging experience showcases our product offering and we believe it will translate into increased brand loyalty and sales
King of Prussia, PA (PRWEB) December 05, 2011
Lorel Marketing Group (Lorel), a full-service marketing agency, and Keuka SureGrip®, a branded slip resistant footwear company that provides stylish, comfortable footwear for working professionals, announced the successful launch of the new Keuka SureGrip® Digital Catalog.
Utilizing the Lorel Digital Catalog Suite (DCS), the Keuka SureGrip® digital catalog provides individual customers and organizations the ability to interact with Keuka SureGrip® footwear and to gain a better understanding of the brand and its unique merchandise within an intuitive, easy to use web-based platform. The Keuka SureGrip® digital catalog not only encourages an increased engagement with consumers, but also drives them to purchase, by including seamless transitioning to the Keuka SureGrip® ecommerce website. Once on the website, the Keuka SureGrip® customer can easily specify and sort the merchandise by gender, brand, category, price, color and more, allowing Keuka SureGrip® to personally tailor the user experience.
"We are excited to team with Lorel to offer our customers an interactive way to shop from our catalog. This highly engaging experience showcases our product offering and we believe it will translate into increased brand loyalty and sales," said Meredith Stewart, Vice President of Marketing at Genesco Licensed Brands.
"Lorel is helping Keuka SureGrip® to broaden their customer base reach with the use of the Digital Catalog. The Digital Catalog is designed to enhance the customer experience by combining the benefits of both the printed catalog and the fast-growing e-commerce channel," said Sebastian Pistritto, President, Lorel Marketing Group.
Supporting the launch of the printed catalog, the Keuka SureGrip® digital catalog establishes an additional channel where Keuka SureGrip® can expand its outreach among current customers as well as prospects, as a direct to consumer retailer. Users have the option to browse through the entire Keuka SureGrip® collection and to share specific products and pages with friends and colleagues via email and various social networks. The Keuka SureGrip® digital catalog offers customers a deeper level of engagement and brand loyalty, leading ultimately to increased sales. Each page is embedded with tracking analytics, to provide valuable customer feedback for future product assortment and pagination updates. To learn more about Keuka SureGrip® footwear, visit http://keukafootwear.com.
The Lorel Digital Catalog Suite is available in three options; each one provides a unique content-guided catalog experience. As the Keuka SureGrip® digital catalog is built for the web, the Lorel DCS is also available for the iPhone and iPad with a consistent user interface and embedded tracking analytics. Based on customer needs, the Lorel DCS can be customized to include embedded videos, multiple product views, articles, animations, voiceovers, comparison tools, music, social media, wish lists, and more.
As a special option, the Lorel DCS can interface with a company's database to recommend targeted products based on historical customer purchase data. This allows retailers to create multiple product segments based on individual customer profiles with dynamic messages offering personalized product assortments and promotions.
To learn more about the Lorel Digital Catalog Suite, please visit http://www.Lorel.com/digitalcatalog/, or contact Sebastian Pistritto at 610-337-2343, or spistritto(at)Lorel(dot)com.
Lorel Marketing Group is a full-service, multi-channel marketing agency in its twenty-fifth year of accelerating the measurable success of leading brands within the lifestyle, retail and healthcare industries. Lorel specializes in insight mining, strategy development, branded creative and measurable marketing promotions that embrace integrated online and offline tactics. Lorel's client work has been recognized by various organizations and competitions such as the Summit International Awards, The Association of Marketing and Communications Professionals, The Creativity International Awards and the Healthcare Advertising Awards, among others.
Visit Lorel Marketing Group in King of Prussia, PA, or online at http://www.lorel.com. To contact Lorel, email info(at)lorel(dot)com or call 610.337.2343
Keuka SureGrip,® a division of Genesco Inc., is designed for those who know that when life moves fast, it's easy to slip. Intended for professionals who want to step into any situation with confidence and style, Keuka SureGrip® combines unparalleled comfort and a slip resistant grip with designs that are anything but business as usual.
###