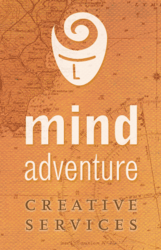 You Have Something to Say – Say it in Your Own Unique Way.
Boston, MA (PRWEB) December 01, 2011
Mind Adventure Creative Services (CS) is the newest division of Mind Adventure, Inc. Rob White and his team of innovative thinkers will now be offering their expertise to writers, authors and every creative aspirant who desires to share their message with the written word. "Give us what you have," says, White. "We will transform what you are trying to say in a personally unique way. We are a full service creative company that will help you express yourself. We turn your blogs into books. Will help you write a personal letter or resume or craft your life story and philosophy so it expresses in your own unique way."
What makes Mind Adventure CS unique is it's unparalleled ability to deliver a product that is a direct reflection of the client's highest creative nature; and it's delivered directly to the client's doorstep within a promised time frame.
From original design, illustration and branding Mind Adventure has the capacity to communicate a personal message in any form. The CS division produces books, brochures, and collateral materials. CS will hone and craft manuscripts and prose in a way that promises a finished product that the client will be proud to share with the world.
Nicholas Kent, the Mind Adventure Art Director says, "Clients will have full personal contact with our creative staff and an empowering opportunity to be mentored by Rob himself. Rob has a way of pulling out the Gold Nuggets that you know are there but can't quite get to."
Mind Adventure decided to offer this service to the public after receiving numerous inquiries, and acclaim for the blogs on its website, and for the unique style found in the books it has produced, such as Marvelous Denials & Wonderful Obsessions, 180, ROAR and Driven to Learn, Learning to Win.
"We live in an entrepreneur society," says Kent, "one has to be ready to communicate their own personal brand. We help you do this with everything from book cover designs to illustrations that bring your ruminations to life. We deliver the whole enchilada, including uncommon book titles, chapter headings and punchy paragraph shout-outs right to your door… or laptop!"
Mind Adventure will present a sampling of services offered at the Holiday Inn in Brookline, Ma. on Dec 10th from 10:00 am to noon. There will be a brief workshop at 11:30 am. Rob will offer you 'Four easy steps that help you find your truly unique self. Contact the Mind Adventure office via email or at 617.477.4260 to reserve a seat. The cost is $25. Space is limited to the first 50 folks who sign up.
###