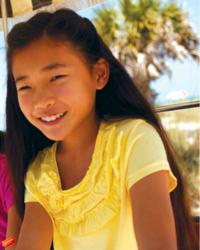 Washington, D.C. (PRWEB) December 02, 2011
Thousands of social studies educators from around the country will have the chance to meet Pearson's newest -- and youngest -- social studies author at the National Council for Social Studies Conference (NCSS) in Washington, D.C.
A year ago, Chae Humphrey was your average Florida fourth-grader: going to school, studying hard, learning how to play the guitar and hanging out with her friends. Less than a year later, she is the author of "My Florida," based on her young life, which she will be signing copies of in the Pearson Booth #509. Chae created her book, telling her own history, while learning with Pearson's myWorld Social Studies elementary grades program.
At the heart of the myWorld Social Studies program is myStory Book, developed in partnership with Tikatok, a children's self-publishing platform from Barnes & Noble. Using myStory Book, Chae became a published author by using the latest digital storytelling technology to personalize her own story. Her book, available both digitally and physically on Tikatok.com, shows students and teachers how engaging social studies can be. With the storytelling process embedded at every step of the curriculum, students will continually make personal connections, develop critical thinking skills, and express themselves in writing – all aimed at engaging and motivating them to excel.
"Chae's new book and her academic accomplishments exemplify the ways that technology can personalize learning and accelerate achievement for all students," said Pearson senior vice president Lynda Cloud. "As she enthusiastically tells the story of her own life and her home state, Florida, educators will see the ways that storytelling combined with digital tools can personalize learning and make social studies come alive for students anywhere."
In her book, illustrated with photos of her family and friends, Chae explores social issues, such as integration of school buses in Florida in 1957 and what it means for her life today. She discusses the history of the Seminole Indians and how their culture is reflected today. She shares the story of a family visit to St. Augustine, voicing her career aspirations to be a tour guide there someday and she enthusiastically describes why she thinks Florida is a great place to live and visit.
"I feel so proud and like I have accomplished something major," said Chae, when asked about becoming a published author and seeing her story for the first time in print. "I wrote a book and now I can't wait to write another one."
NCSS attendees can hear a presentation from Chae, meet her and get a signed copy of her book on Friday, Dec. 2 from 2:45-3:30 pm and on Saturday, Dec. 3 from 9-9:45 a.m. and from 1-1:45 pm.
Featured in the Pearson booth, the myWorld programs for elementary and middle school students allow teachers to make the most out of limited instructional time to cover academic standards with print, digital and blended learning opportunities, while reinforcing reading and writing skills found in the National Social Studies Standards and Common Core Standards.
In addition to its digital programs for elementary, middle and high school students, Pearson will showcase its award-winning collection of apps designed to help students make the connection between learning and fun, while reinforcing their knowledge of history, geography, economics and civics, at the 2011 NCSS Conference. For more information about Pearson's social studies programs, visit http://www.pearsonschool.com/socialstudies.
About the Tikatok and Pearson Partnership
Pearson is partnering with Tikatok (http://www.tikatok.com), the leading children's publishing platform and a Barnes & Noble company, to integrate an interactive digital platform for creating personalized online story books with the myWorld Social Studies elementary grades program.
About Pearson
Pearson, http://www.pearsoned.com, has as its mission to work side-by-side with states, districts, teachers, students and parents to ensure that every child is prepared for college and career (NYSE: PSO)
For more information:
Kate Miller, kate(dot)miller(at)pearson(dot)com - 800.745.8489
###