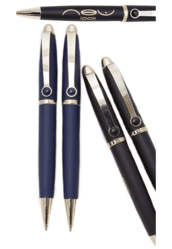 Brands that are looking for cost effective promotional items will find what they have been looking for at Pensxpress.com.
(PRWEB) December 02, 2011
Personalized ink pens are used extensively for promotional needs by small, medium as well as large brands as every brand whether small or big is subjected to severe pressure of competition. Personalized business pens have proven to be one of the most dependable promotional items which will promote the brand name very effectively. Pensxpress.com enjoys very good reputation in the industry by featuring the best range of promotional pens. Brands that are looking for cost effective promotional items will find what they have been looking for at Pensxpress.com.
Among the hot range of irresistible promotional pens launched for 2012 are Xpress Gel Pens A, Xpress Ally, Xpress Axis, Xpress Sync, Xpress Gel Ink Pens B and Xpress Peaks. All these models are bound to impress the target group as all these pens are of the highest quality. Pensxpress.com already has the largest collection of promotional pens in its inventory and these new pens certainly add value to the existing collections. Pensxpress.com regularly updates its inventory to offer customers with the widest range of options.
Pensxpress.com is always known for featuring premium collection of personalized ink pens and business pens. This company also prices all the products very competitively so that even small business owners can afford to run highly effective promotional campaigns at the lowest prices.
Pensxpress.com makes it easy for institutions and organizations that are looking for the best quality promotional products at affordable budgets by featuring unlimited collection of promotional pens in one place. Pensxpress.com helps companies save both time and money by offering excellent quality pens at the lowest prices. All the pens are delivered in good condition after customization. Even customization is done very professionally to help brands project a very high standard image among the target group.
Companies that are interested in running effective promotional campaigns should make the best use of the latest collection of promotional pens launched by Pensxpress.com. All the latest promotional pens at Pensxpress.com for 2012 come in wide range of colors. Ordering promotional pens at Pensxpress.com and customized promotional pens have been made simpler than ever. Customers will be able to order personalized ink pens in very few clicks. Pensxpress.com is a very safe website from where customers can easily place orders for customized logo pens without compromising on personal online safety. This website has a fully secured shopping cart with advanced SSL protection to guarantee 100% secure shopping environment.
Pensxpress.com guarantees timely delivery of all the orders irrespective of the size of the order. Companies that order custom pens at Pensxpress.com will enjoy the best customer service. No other company features such a vast collection of promotional pens. The new range of promotional pens featured here at Pensxpress.com for 2012 promotions will certainly get the attention of buyers that are looking for top class promotional pens.
###