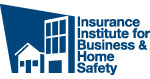 These powerful storms can, as Irene did this year, travel very far north and cause damage quite far inland.
Tampa, Fla. (PRWEB) December 02, 2011
The 2011 Atlantic Hurricane season served as a reminder that it only takes one hurricane to cause catastrophic damage, according to the Insurance Institute for Business & Home Safety (IBHS).
The 2011 Atlantic Hurricane season officially ended yesterday after producing seven hurricanes, including three major hurricanes, according to the National Oceanic and Atmospheric Administration (NOAA). Late this summer, Hurricane Irene swept up the east coast causing extensive damage from North Carolina to Maine estimated at more than $4 billion.
"Hurricane Irene was a wake-up call for New England that each and every year, there is a strong likelihood that a hurricane will hit communities far away from the Southeastern U.S. or Gulf Coast," said Julie Rochman, IBHS president and CEO. "These powerful storms can, as Irene did this year, travel very far north and cause damage quite far inland."
Rochman noted that the 2012 hurricane season begins on June 1, leaving plenty of time for home and business owners to prepare their property against damage. According to IBHS, sealing the roof deck offers extremely effective and relatively low-cost protection against water damage caused by driving rain during a hurricane.
"Sealing the roof deck can significantly reduce the chances of catastrophic loss due to water damage that occurs when roof cover is compromised or blown off during a high-wind event. Taping the seams on an average-sized roof costs about $500 – a very good investment that could pay huge dividends when a storm hits," Rochman said.
IBHS offers details on how to seal your roof deck, as well as additional roofing retrofit information for homes and businesses in its guide, Roofing the Right Way.
Exterior opening protection is also critical to a property's ability to survive a hurricane. Wind-borne debris can smash through windows and high winds can blow in doors (including garage doors) resulting in major damage. In addition, if the structural elements of a building (for example, the roof, walls, floors and foundation) are not tied together, winds can easily pull them apart, resulting in partial or total destruction. Unique, full-scale testing at the IBHS Research Center has vividly demonstrated how houses fail in seconds when exterior openings are breached and when structural elements are pulled apart by hurricane-strength winds.
"As recovery continues in states affected by Hurricane Irene, this is the time – from now until the next hurricane season – to ensure that homes and commercial buildings are repaired or rebuilt stronger and safer. By doing so, people, jobs, and communities will be more resistant to hurricanes and other disasters," Rochman added.
Visit http://www.DisasterSafety.org for more information about how to make your property more resistant to a variety of disasters, big and small.
To arrange an interview with IBHS, contact Joseph King at 813-675-1045/813-442-2845, jking@ibhs.org or via direct message on Twitter @jsalking.
About IBHS
IBHS is an independent, nonprofit, scientific and educational organization supported by the property insurance industry. The organization works to reduce the social and economic effects of natural disasters and other risks to residential and commercial property by conducting research and advocating improved construction, maintenance and preparation practices.
###