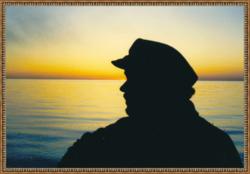 As I say in my song, 'If you imagine (no religion, no God, etc.), you couldn't be more wrong."
Fredonia, NY (PRWEB) December 03, 2011
Contemporary Orthodox Christian singer/songwriter, Jim Giatas has created a new website at http://www.jimgiatas.com. All of Jim's 11 albums are available for sampling and purchase in the MyStore section of the website.
Jim's website is very secure for credit card transactions. The downloads are managed through Nimbit.com which is an A.S.C.A.P. approved artist distribution service. The site itself is hosted by Blue Host which comes highly recommended by Nimbit and other trustworthy reviewers.
Jim was at Woodstock in 1969 and after having explored various New Age, Buddhist, Hindu, Roman Catholic and Protestant beliefs, he has come full circle to embrace the historic Greek Orthodox Church of his youth. "I simply grew tired of running into so many dead ends. I am truly thankful to come home to the actual and historic Christian Church that the Lord Jesus founded. I hope people will find blessings in my music."
Jim writes, records and plays all of the instruments on his recordings as well as singing all of the vocal parts.  Unlike most music being made today, Jim does not use autotune pitch correction or maximum compression.  "I like all the little - and not so little -imperfections that keep my music human and truthful "  Jim has recorded all of his music at home with very modest means. He is an A.S.C.A.P. writer/publisher.
Jim's controversial song, "If You Imagine" - newly available on his website - was written and recorded in response to John Lennon's song, "Imagine." "John's song has gone virtually unchallenged for all these years and I felt compelled to write an answer to it from my own Orthodox Christian perspective." The complete "If You Imagine" can be heard at: http://www.youtube.com/user/JimGiatas?feature=mhee The song also appears on Jim's fifth album, "Love Never Fails" - track #3.
"If You Imagine" has generated significant criticism. One writer called it blasphemy. On MySpace, Vangellis responded that it was "A terrible denigration of Lennon's ode to reason." Another critic on YouTube wrote, "There is ZERO evidence for God or anything supernatural. Everything is chance, that's what science is showing us. You may not have meant for your song to be insulting but that's what it is," Jim respectfully disagrees.
"Musically, I've always been a Beatles (and Beach Boys) fan. This influence sure does show up in my own recordings. I guess the music you liked when you were 16 just stays with you forever. I mean no disrespect to John's memory. Certainly, his loss was a terrible tragedy. I never knew him personally but I understand that he was a very sweet guy who was rediscovering his Christian roots. I'd like to think that John would have liked my song. Nevertheless, his music and his humanist - atheistic philosophy have become something of a sacred cow. As I say in my song, 'If you imagine (no religion, no God, etc), you couldn't be more wrong."
In the book, "Lennon in America," written by Geoffrey Giuliano, Lennon commented that the song was "an anti-religious, anti-nationalistic, anti-conventional, anti-capitalistic song, but because it's sugar-coated, it's accepted." Lennon also described it as: "virtually the Communist Manifesto."
In 2004, and again in 2010, Rolling Stone magazine voted "Imagine" the third greatest song of all time. Former U.S. president Jimmy Carter said, "In many countries around the world — my wife and I have visited about 125 countries — you hear John Lennon's song 'Imagine' used almost equally with national anthems." Jim points out that, "This has become painfully obvious when almost all New Years Eve celebrations on television have been broadcasting "Imagine" to bring in the new year."
Jim continues,"We live in such unreasonable times that Christianity is being attacked as 'hate speech' throughout the world - imagine that! Even so, there is only one Savior, the Lord Jesus Christ who is the way, the truth, and the life. No one comes to God except by Him. As we know, John and The Beatles never acknowledged this profound and life-changing truth."
All Rights Reserved
ASCAP
"The aim and final reason for all music should be none else than the glory of God."
J.S. Bach
# # #