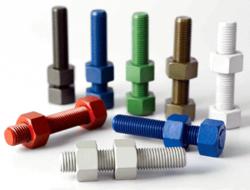 Arlington, Texas (PRWEB) December 02, 2011
In recent years AFT, Automated Finishing Technology, has grown from a small North Texas business to an international importer/exporter of quality standard and non-standard fasteners, mechanical components and manufacturing industry services. One of their most recent acquisitions is a dry film lube and Xylan® coating facility located in Arlington, Texas. Proven business practices and management models have already lifted the local business to the international stage in the electroplating and fastener distribution fields.
AFT has already started enjoying great success with this new facility by quickly establishing a diverse customer base. These customers are receiving excellent coated products to meet their wide diversity of manufacturing needs and specifications. Dry film lubricants start out as high performance, paint-like coatings consisting of fine particles of lubricating pigments blended with a binder and special additives. After application and proper curing, these lubricants bond to the surface of the ware, and form a solid film, which reduces friction, and greatly increases wear life. Many dry film lubricants also contain special rust inhibitors which offer exceptional corrosion protection in harsh environments. Dry film lubricants contain special pigments that reduce friction and wear by preventing surface-to-surface contact between mating parts (i.e., a shaft and its bearings). Performance properties vary depending on the specific lubricating pigment used. Some offer excellent lubrication and corrosion protection, while others operate at high temperatures. Some are formulated for use in extreme environments and can withstand nuclear radiation. A few applications of dry film uses are: parts usage in corrosive atmospheres, protection for stored parts, parts requiring permanent lubrication, parts subject to frequent disassembly, fretting and galling protection and ease of release assistance.
Xylan® and wet paint applications can also be matched to a wide diversity of colors and specifications. Xylan® is the umbrella trademark for most of the Whitford fluoropolymer coatings line. Xylan® is comprised of low friction, wear resistant composites of fluoropolymers and reinforcing binder resins. There is a wide range of Xylan® coatings available in one, two, and three coat conventional and reinforced non-sticks. The fluoropolymers utilized in Xylan® coatings consist of PTFE, PFA, and FEP.
Automated Finishing Technologies has years of experience in fastener and parts electro-plating and metal coatings and specialize in black oxide, copper, e-nickel, silver, zinc, zinc phosphate, cadmium and more. AFT also is related to AFT Fasteners which provides high quality fasteners, components, inventory control, kitting services and fastener manufacturing and modifications. These companies are no strangers to meeting the most stringent manufacturing specifications. For more information regarding metal plating, Xylan® and other coatings – please contact AFT at info(at)aft-corp(dot)com or call (877) 844-8595.
###