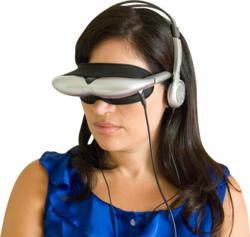 When I first put on the MicroBeatMini… I was astounded by the color light show !" - Jeff Labno (L&S Industry Expert)
Sydney, Australia (PRWEB) December 08, 2011
Innovex today announced the immediate worldwide availability of the MicroBeatMini all-in-one AudioStrobe® compatible Light and Sound Mind Machine.
The MicroBeatMini uses light and sound pulses at specified frequencies to alter the brain wave activity of the user. This is done in order to reach a variety of interesting and beneficial states of consciousness. Behind closed eyelids the user will see a complex kaleidoscope of color, multidimensional layers of fractals and a variety of dream-like imagery.
Introduction to Mind Machines
For many years Light and Sound Mind Machines worldwide have been used as a drug-free alternative for treating pain, insomnia, addictions and ADD (Attention Deficit Disorder) as well as brainwave entrainment.
It has been proven that brainwave entrainment has many benefits. These benefits includes - increasing creativity, memory, focus and learning abilities, reduce stress, enhance lucid dreaming as well as self-hypnosis and deliver a whole new level to meditation practices.
MicroBeatMini Features

State-of-the-art AudioStrobe® Decoding Circuitry
All-in-one Design (LED Light Frame + Decoder)
Removable Rubber Light Shield
10 Modes (7 Alternate and 3 Complimentary)
16 Super Bright Multi-Color LEDs
Specially Designed Light Reflectors
Built-in Lithium Battery
High Fidelity Audio Output
Comfortable Ergonomic Design
Adjustable Nose Piece
Removable In-Ear Headphones
Auto Power-Off
MicroBeatMini Inclusions
The MicroBeatMini includes everything you need to get started. We have even included the specially selected high fidelity KOSS KTXPro1 stereo headphones to ensure you the optimal audio experience when using the MicroBeatMini.
High Fidelity KOSS KTXPro 1 Headphones
Removable In-ear Headphones
Removable Rubber Light Shield
Bag for MicroBeatMini Unit and Cables
USB Charging Cable
Audio Cable (3.5mm)
Light and Sound Mind Machine Industry Experts Says ….
"When I first put on the MicroBeatMini… I was astounded by the color light show! What a treat, wow. I saw spiraling colors of unimaginable shades forming what appeared to be tropical flowers of stunning colors, intertwined with geometrics, similar to mandalas described in the Yoga Sutras – used for meditation. " – Jeff Labno ( L&S product consultant and specialist)
"….the mBm is awesome. The more I work with it, the better I like it. It is so convenient and easy to use." – Christopher Oliver (L&S session designer)
Compatibility
The MicroBeatMini is compatible with devices that support a 3.5mm audio output and CD or MP3. These include the iPad, iPod and iPhone, Android tablets and phones, CD/MP3 players and PC/Mac computers with CD audio or MP3 compatibility.
Pricing & Availability
The MicroBeatMini starts at $299 USD and is available from http://www.microbeatmini.com.
About Innovex
Innovex Pty Ltd is an Australian owned and operated company specializing in developing and sourcing cutting edge products to aid in enhancing their customer's quality of life.