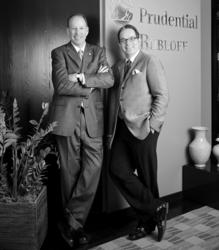 So many times, people come for a vacation and stay for a lifetime. We want to be their broker for life in this key market.
(PRWEB) December 03, 2011
Michael Pierson and Chris Eigel, principals of the prestigious Chicago real estate firm Prudential Rubloff Properties, are pleased to announce the acquisition of New Buffalo Vacation Rentals which will fall under the recently established Rubloff Rentals Division. Dan Saunders, founder of New Buffalo Vacation Rentals, joins Prudential Rubloff Properties as Manager of Rubloff Rentals.
"It makes great sense as the market leader in brokerage to expand our services to include this important component," said Pierson. "So many times, people come for a vacation and stay for a lifetime. We want to be their broker for life in this key market."
"Over the past eight years, Dan has built New Buffalo Vacation Rentals into a well-respected vacation rental business currently representing over 40 property listings from Michiana to Sawyer," added Rob Gow, Branch Manager of Prudential Rubloff Properties' office in New Buffalo, Michigan. "New Buffalo Vacation Rentals is widely considered a trusted and reliable resource for homeowners and vacation renters alike."
"Prudential Rubloff Properties is an outstanding company with a fine reputation and is the market leader throughout Southwest Michigan and Northwest Indiana," said Saunders. "With the recent establishment of Rubloff Rentals, they were the natural choice of partners for me."
Joining Dan Saunders on the Rubloff Rental team is Anna Jachim. Anna has worked with Dan providing administrative support and artfully addresses the needs of property owners and vacation renters. Both Dan and Anna bring substantial vacation rental operational experience and hospitality skills to Rubloff Rentals.
To learn more about Rubloff Rentals for your vacation rental property needs, please contact Dan Saunders at 269.469.8700 or via email at dsaunders(at)Rubloff(dot)com.
About Prudential Rubloff Properties
Prudential Rubloff's Harbor Country office is located at 439 S Whittaker Street in New Buffalo, Michigan, and can be reached by calling 269.469.8300. Prudential Rubloff Properties has 16 sales offices with over 900 sales professionals and staff in Chicago's Gold Coast, Lincoln Park, Lakeview and South Loop neighborhoods, as well as suburban Evanston, Hinsdale, Lake Forest, Libertyville, Northbrook, Wheaton, Winnetka and Michigan's Harbor Country. Prudential Rubloff is the exclusive provider of Prudential Rubloff Mobile, a free mobile application that allows users to explore all homes for sale, for rent or that have recently sold in the Chicagoland and Southwest Michigan areas from their mobile device. Prudential Rubloff is also the exclusive provider of Premier Market Watch, a consumer trend and analysis tool for neighborhoods and communities in Chicagoland's Cook, Lake and DuPage counties. To receive Premier Market Watch reports, or to download the Prudential Rubloff Mobile application, please visit Rubloff.com.
Prudential Rubloff Properties is an independently owned and operated member of Prudential Real Estate Affiliates, a full-service residential and commercial real estate network with nearly 1,600 franchise offices and approximately 54,100 sales professionals in the franchise network in the United States and Canada. Prudential Rubloff ranked first in the Midwest and sixth nationally in the Prudential Real Estate Network in 2010. For additional information and the finest online residential real estate experience in Chicagoland, please visit Rubloff.com.
# # #