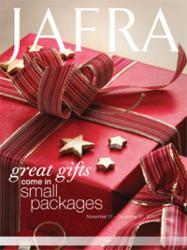 Westlake Village, CA (PRWEB) December 01, 2011
With the arrival of the holidays, JAFRA USA customers turn their attention to family, friends and giving; yet the countdown to find the perfect gift for everyone on their list shouldn't put a damper on their holiday spirit. To put the merry back into the holidays, JAFRA USA, leading manufacturer and direct sales marketer of beauty and skin care products, has a holiday offering that is sure to bring a smile to many faces. With gift ideas at $20 and under for him, her, teens and kids, this holiday season promises the ultimate beauty experience at serious savings! Additionally, for those shopping for someone with an entrepreneurial spirit, JAFRA offers an unparalleled income opportunity that multiplies – a JAFRA business!
Great Gifts Come in Small Packages
This season, JAFRA offers customers a selection of the most popular products at prices that won't strain budgets. Whether shopping for a beauty connoisseur, or simply searching for that extra pizzazz to add to the holiday stocking, the JAFRA USA holiday gift supplement, Great Gifts Come in Small Packages, is stocked with an assortment of affordable gift ideas starting with:

Exclusive signature fragrances for only $20 each, including Valferra Spirit for him; and Eau d'Arômes Amour for her.
A luminous high-pigment eyeshadow duo, in festive shades of bronze and gold at only $20.
Body care and grooming favorites including body oils & lotions, hand creams, shaving creams and after shave lotions starting at only $15.
Fun and flirty body mists for teens at the perfect price of $10.
A Gift that Keeps Giving
Tis' the season of giving, especially if the gift is one that has the power to transform lives. The JAFRA Business Kit is available this holiday season for only $60, a $370 value! Most importantly, the receiver of this gift will possess the JAFRA business essentials needed to embark on a journey of unlimited income potential. There is no better way to show your care than with a gift that has the ability to make entrepreneurial dreams come true. Now is the best time of year to give the gift that multiplies in value, the gift of JAFRA.
"This time of the year allows us to reflect on our past, but more importantly focus on our future," said Connie Tang, President of JAFRA USA. "More than ever, people are searching for financial opportunities to help them with their day-to-day expenses, home financing, disposable income and to maintain their quality of life. The uniqueness of the JAFRA opportunity is that it reaches the needs of many and makes a lasting impact on their lives. We offer the solution to the difficulties many people are facing today. We can alleviate their fears by empowering them with the 'how.' This is what JAFRA has been doing for the past 55 years - transforming lives. Ours is a gift that keeps giving."
The complete JAFRA USA holiday collection is currently available for ordering through the For All That Glimmers holiday gift guide; all gift ideas at $20 and under are currently available for ordering through the Great Gifts Come in Small Packages holiday supplement—sold exclusively through JAFRA USA Consultants nationwide. For more information on JAFRA's holiday collection and to find a JAFRA USA Consultant, visit http://www.jafrausa.com.
ABOUT JAFRA Cosmetics International, Inc.
JAFRA Cosmetics was founded in Malibu, California in 1956 by Jan and Frank Day with the vision of providing women with world class products and business opportunities. In 2004, the privately-held JAFRA joined the Vorwerk Group, a German-based, multibillion dollar international direct sales company, represented in over 60 countries worldwide.
JAFRA's 550,000 worldwide Independent Consultants make it one of the world's largest producers of cosmetics today. With annual sales in excess of half a billion U.S. dollars, JAFRA has a worldwide product portfolio that encompasses skin and body care as well as spa products, color cosmetics and fragrances, which JAFRA produces using high-quality natural ingredients and state-of-the-art manufacturing facilities. JAFRA products are manufactured using a brand new $30 million manufacturing facility which came on-line in Queretaro, Mexico in early 2010. JAFRA products are sold globally in 17 countries including Latin America, North America, Europe and now Asia. For more information, please visit http://www.JAFRA.com.
###