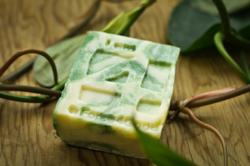 I am a Force4Good only shares the best of the best with their clients!
Hartford, CT (PRWEB) December 03, 2011
Spirits have been a bit down this holiday season with pre-winter storms, the economy, and so many unknowns. The Holiday Craft Sale, December 4th at the FVSC in Simsbury, CT offers artisans hope and an opportunity to share their treasures.
I am a Force4Good, will be introducing their newest line of OrganicSelf body butters, soaps, and soy candles. All of their items are produced by women regaining dignity and rebuilding their lives.
Brenda shares, "The tasteful gifts at this booth will rejuvenate your sole and pop some spring into your holiday spirit. Feeling good, staying healthy, and providing that extra natural touch is what you will find when you meet the ladies at the I am a Force4Good booth."
Don't forget to smell the samples and with every purchase you can be assured you are helping brave women rebuild their lives.
A gift for you and a future for another. The holiday is filled with all kinds of surprises.
###