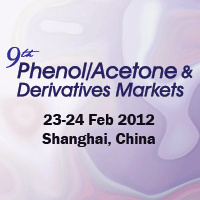 Panel discussion by Cepsa Quimica and Mitsui & Co. Ltd. on `Global Phenol & Acetone Market Review' will review Demand/Supply projections and performance of Acetone market.
Shanghai, China (PRWEB) December 14, 2011
A special feature at the aptly timed conference is a stimulating panel discussion on Global Phenol & Acetone Market Review lead by Carlos Diaz, Director Sales & Marketing from Cepsa Quimica and Mr Iken Ko, General Manager, Phenol Department from Mitsui & Co.Ltd. Panelists are expected to share their perspectives on the Demand/supply projections and the performance of acetone market with emerging phenol capacities coming onstream.
Meanwhile, Hermann-Josef Doerholt, Senior Vice President, Business Unit Polycarbonates from Bayer MaterialScience (Shanghai) Management Co., Ltd is slated to unveil invaluable insights & updates on Polycarbonate Market Outlook elaborating on Growth perspectives in a dynamic region and Increasing Bayer's foothold in Asia Pacific
Besides above, the rest of invited speaker panelists contributing at this Shanghai meet include:

HFT Investment Management (HK) Ltd shedding light on The post-subprime balance sheet recession in Europe and the US, Problem with the post-bubble adjustment process in his presentation on `Macroeconomic Tall Order in the Post-subprime World and Impact on Asia'
Nexant Asia Limited sharing views on Price trend & forecast, New capacities update & impact on trade flow in his presentation Global Benzene & Propylene Market Outlook
Sumitomo Corporation with topic on Supply/demand trends in Global Market Developments for
Ian Harris, General Manager of Momentive Specialty Chemicals presenting a paper on Global Phenolic Specialty Resins Market and the role of Momentive Union
Yu Seung Ik, Deputy from Kumho P&B Chemicals Co Ltd discussing and analyzing BPA Market Outlook & Developments
Miyaki Takashi, General Manager Mitsubishi Rayon Co Ltd in his session will gives an Overview of MMA market in Asia
Sachin R Mathur, Deputy General Manager (Epoxy Division) Aditya Birla Chemicals (Thailand) Ltd speaks on Epoxy resins and their robust growth in Emerging Markets
Eko Rudianto, General Manager of PT. Toyota Motor Manufacturing Indonesia (TMMIN) addresses Production & consumption trends, New technology & innovations in Robust Automotive Market Drives Polymer Growth
Ajoy Roy, Partner of Amarchand & Mangaldas &Suresh a. Shroff & co. deliver presentation on Impact of Anti-Dumping Duties against US and EU and Recent Caprolactam case study in China, Phenol & acetone in India
The 1.5 days annual meet, well-recognized as the annual premier buyer-seller meet in the phenol/acetone industry, brings together senior executives from Traders of Petrochemicals (Olefins/Aromatics), International & regional Phenol/Acetone, Derivatives (Bisphenol A (BPA), Polycarbonate (PC), MMA, Phenolic Resins & Epoxy resin, Solvents, Consulting companies, Financial Institutions/banks, Additives & Technology companies. It is supported by an unparalleled line-up of international speakers addressing central theme of "Rising Capacities in Asia & the Impact on Global Market".
To access full agenda of 9th Phenol/ Acetone & Derivatives markets conference visit the event's website . For details on reservations please contact Ms. Grace at (65) 63469147
###