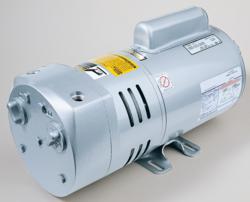 they provide a long, very low maintenance life; are simple and economical to install and operate
Redditch, UK (PRWEB UK) 6 December 2011
Typical examples include bag packaging equipment, where vacuum is often used to open, hold and close bags in filling machines. It is also used extensively to rapidly fill containers on automated filling lines, where vacuum filling helps to maintain line speed and can also help prevent spills and overfills that can necessitate line stoppages.
The Gast Group's rotary vane air compressor and vacuum pumps provide a long, very low maintenance life; are simple and economical to install and operate; and the low vibration design means that the range is ultra-quiet in operation.
Units offer a wide range of pulse-free airflow rates from 0.31 to 112 cfm (0.53 to 190 m3/h) without the need for a separate receiver tank. Vacuum ratings range from 65 to 335 mbar with pressure ratings from 5 to 25 psig (0.4 to 1.7 bar) and motor outputs from 1/45 to 15 HP (0.02 to 11.1 kW).
Options include dual-function compressor and vacuum pumps, dual-frequency, multi-voltage AC electric motors are available along with, 12 and 24 volts DC-rated models. A range of recommended accessories is also available and bespoke versions can be manufactured to special order for OEM quantities.
For further information on the Gast Group's range of rotary vane air compressors and vacuum pumps, call 01527 504040, email sales.gast(at)idexcorp(dot)com or visit http://www.gastmfg.com.
# # #