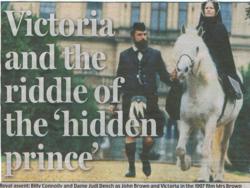 A major break through in the UK tabloid media!!
Royal Deeside, Aberdeenshire, Scotland (PRWEB UK) 4 December 2011
Quoted as published by Chief Reporter Charlotte Thomson:
It was the intimate friendship that caused a scandal at the Royal Court.
Queen Victoria's close bond with her Gillie John Brown was such that it led to fevered speculation about the true nature of their relationship but now a Scots historian has gone a step further, claiming that not only did the couple marry in secret but they also had a child, a so – called "hidden prince". "Infant went to an aunt of Brown"
Billy Rennie claims he has proof that Queen Victoria bore a son called John Hanton to her manservant because Mr Rennie's late wife was a descendant of Hanton and allegedly had credible bits and pieces passed down through the family over the years.
The local historian has written a book about the alleged illegitimate son who was his late wife Sheena's great grandfather. Mr Rennie, 65, claims the child was born 5 weeks before the Queens husband, Prince Albert, died, on December 14, 1861.and he believes she married Mr Brown in a private ceremony after Prince Albert passed away. Mr Rennie claimed he discovered his late wife Sheena's royal connections shortly after he met her but it was only recently that he decided to start writing the book in her honour. She died of cancer 26 years ago.
"I met my wife when she was a nurse in Aberdeen. When she told me the history of her ancestors, I had no reason to disbelieve her," he said. "We often visited her grandparents in Tarland. They didn't have a car, so we took them out and all they wanted to do was go round grave yards. We went up to Crathes, and Balmoral, and they pointed out all the stones and told me who the people were and told me all the stories."
Mr Rennie, of Stuartfield, Aberdeenshire, said his wife then came across a newspaper article about the downfall of a man who had threatened to "tell all" about Queen Victoria. Mr Rennie claims the press clipping told how Michael MacDonald, the then curator of the tartans museum in Perthshire, was threatened by the "powers at be" and even lost his job. Father of two, Mr Rennie added: "The truth of the matter is that Queen Victoria and Price Albert were separated for about five years. He was down in England on official business and she would always be up here. A few weeks before Albert died, the Queen gave birth to a baby boy who was conveniently placed with an aunt of John Browns, out of sight. When the child was three, he was taken to a property that belonged to the Queen. He was very well educated, well-mannered and spoke two or three languages. John Brown and the Queen later married. We know where the wedding banns are."
Mr Rennie said John Hanton was born on November 6th, 1861, at Loinahaun, Glengairn, parish of Glenmuik, County of Aberdeen. He married Mary Ann Anderson in 1892 and they had seven children. Hanton died in 1942.
It is not the first time claims of an illegitimate child between Queen Victoria and John Brown have surfaced. In 1998, film producer Douglas Rae and writer Jeremy Brocks unearthed romantic letters between Victoria and John Brown, and photographs of them together, in a house near Ballater, Aberdeenshire. Rumours of a love child have never been substantiated.
"The Hidden Prince" is an 116-page paperback with a retail price of $16.00. The ISBN is 978-1-4349-1208-4. It was published by Dorrance Publishing Co., Inc of Pittsburgh, Pennsylvania.
For more information, or to request a review copy, please go to our virtual pressroom at http://www.dorrancepressroom.com or our online bookstore at http://www.dorrancebookstore.com.
Or contact: Att: Billy Rennie c/o The Director, Fedderate R Investments, Fedderate Lodge, Brunthill, New Deer, Turriff, Aberdeenshire, AB53 6UX.
Email: directorsmail.FRI1861(at)yahoo(dot)co(dot)uk
All rights reserved
###