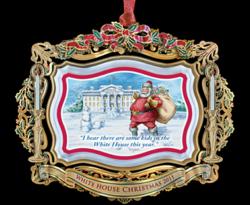 Alexandria, VA (PRWEB) December 04, 2011
CommonWealth One Federal Credit Union is active in supporting the local community and continues this drive by selling the 2011 White House Ornament in its branches now until after the New Year. The White House Ornaments have a long standing tradition of being desired collector items and are very popular in our metro Washington, DC area. Each year, the White House sells a new ornament with a dedicated theme. This year, the ornament honors the twenty-sixth president of the United States, Theodore Roosevelt. This new ornament reflects the excitement that the president and his young family brought to the White House during his tenure.
By donating the proceeds of the sales of the ornament to the Virginia Credit Union League, CommonWealth One is supporting the political environment of credit unions on the state and national level through political candidates. The League represents the 190-plus member-owned, not-for-profit credit unions headquartered in the CommonWealth.
Please contact CommonWealth One to find the branch closest to you in order to purchase the 2011 White House ornament or contact us at (703) 823-5211, (800) 424-3334 or visit us online at http://www.cofcu.org for more information.
About CommonWealth One Federal Credit Union
Since 1944, CommonWealth One Federal Credit Union has grown to become one of Northern Virginia's top credit unions with over $295 million in assets serving more than 36,000 members. CommonWealth One is a full-service, member-owned, not-for-profit financial cooperative committed to being the lifetime financial institution of its members.
CommonWealth One Federal Credit Union offers Checking Accounts, Mortgages, Home Loans, Auto Loans, Savings Accounts, Money Market accounts, IRAs and more in Washington, DC and Virginia. We have remained true to our philosophy of "people helping people" - providing members with loans, savings plans, and special services to achieve their long-term financial goals and help them enjoy a better way of life. Our excess earnings are returned to our members in the form of higher dividend rates, lower interest rates on loans and low or no fees. For information, visit http://www.cofcu.org.
###